Abbey Caskets opens new production facility
Friday, April 13, 2018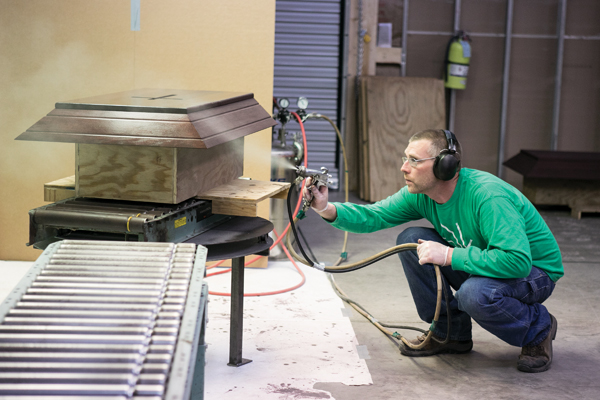 Abbey Caskets has opened a new production facility on the campus of Saint Meinrad Archabbey in St. Meinrad, IN.
The new workshop, which builds wooden caskets and cremation urns, is open for public tours.
Abbey Caskets was established in 1999 to sell wooden caskets and cremation urns directly to the public. The simple caskets include a design based on the casket used to bury the Benedictine monks.
Last fall, a building previously used by Abbey Press was emptied, cleaned and painted. A sprinkler system and sanding and finishing booths were installed and a dust wall was built to separate the finishing station from the cutting and sanding stations.
In addition, Abbey Caskets hired two people for the casket production and another for customer service. Saint Meinrad monk Br. Dominic Warnecke, OSB, also is working several days a week. The workshop began production earlier this year.
Having the casket workshop on site gives Abbey Caskets more control over the quality of the products and helps keep costs down, according to Jenny Keller, director of Abbey Caskets. In addition, customers who want to see how the caskets are made can do so.
To tour the workshop and see the finished products, call Abbey Caskets at (800) 987-7380.
Photo: Ross Tempel sprays finish on a casket lid in the new workshop.