Novice joins Benedictine community
Monday, August 6, 2018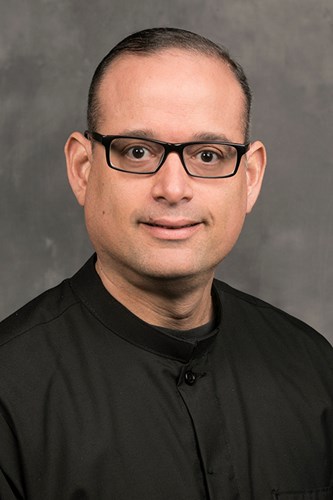 In a brief ceremony, Novice Christian Lumsden was clothed in the Benedictine habit at Saint Meinrad Archabbey, St. Meinrad, IN, on August 5, 2018. He now begins a year of monastic formation, including study of the Rule of St. Benedict and monastic history. 
Novice Christian, 44, is a native of Trinidad.
He earned degrees in music from Trinity College of Music in London and Canterbury Christ Church University in the United Kingdom. He also studied liturgy in the graduate program at The Liturgical Institute in Mundelein, IL, and canonical monastic studies at the University of Oxford.
Previously, he served as director of music for the deanery of Kent in the United Kingdom and as director of music and liturgy for the Diocese of Hamilton, Bermuda, where he also served as cathedral organist and master of the choristers.
Most recently, he was a junior monk at the Benedictine monastery of Quarr Abbey on the Isle of Wight, UK.
As a novice, he takes a year off from formal studies and trades. The novitiate is a time of prayer and learning intended to help a novice discern his vocation as a monk. At the end of this year, a novice may be permitted to profess temporary vows of obedience, fidelity to the monastic way of life and stability in the community of Saint Meinrad.