Fr. Mel Patton, OSB, dies Sept. 6
Friday, September 7, 2018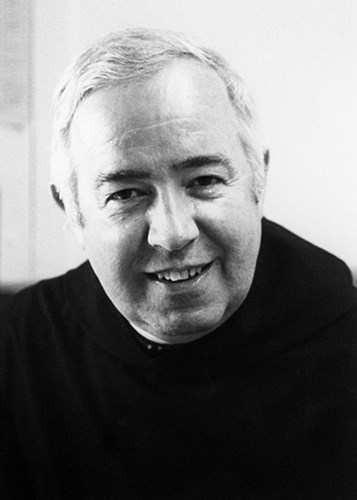 Fr. Mel Patton, OSB, 93, monk and priest of Saint Meinrad Archabbey, died around 6:30 p.m. on September 6, 2018, in the monastery infirmary.
He is survived by his brother, Manus J.T. Patton, of Grafton, OH.
He was born in Fairview Park, OH, on March 2, 1925, to Anthony John and Josephine (Weber) Patton and given the name Raymond Anthony.
After high school graduation, Fr. Mel enlisted in the United States Army, and served as an infantryman in the European Theater for the last two years of World War II. He received the Combat Infantryman's Badge, and was awarded the Purple Heart and the Bronze Star.
He was an accomplished pianist, studying at the Cincinnati Conservatory and Baldwin-Wallace College, and receiving certification from the Ohio State Music Teachers Association in 1947. He accompanied the Little Theater, Severance Hall, Cleveland, for four years, during which time he also accompanied the Finnish Light Opera Company. He also served as organist and choir director at John Carroll University, Cleveland, and as organist at St. Gregory the Great Church, South Euclid, OH.
In 1949, Fr. Mel earned a B.A. in French from John Carroll University, and continued studies in English and Latin. Over the years he would earn an MA in journalism from Marquette University, pursue doctoral studies at Georgetown University, and receive the Master of Divinity degree from Saint Meinrad School of Theology.
He was invested as a novice of Saint Meinrad on July 30, 1952. He professed his simple vows on July 31, 1953, and his solemn vows on August 6, 1956. He was ordained to the priesthood on September 22, 1956.
After his ordination, Fr. Mel had assignments as director of retreats and director of public relations. He also served the community as an organist.
He taught music and English in the Saint Meinrad High School and College for 28 years and offered private lessons in piano, organ, and singing.
After retiring from teaching, Fr. Mel began a series of assignments serving other religious communities. He was an organist at Blue Cloud Abbey, Marvin, SD, and St. Bernard Abbey, Cullman, AL. He served as chaplain for the Olivetan Benedictine Sisters at Holy Angels Convent, Jonesboro, AR, for two years, before serving 16 years as chaplain to the Benedictine Sisters, Sacred Heart Monastery, Yankton, SD.
For almost 20 years, Fr. Mel provided weekend assistance to the soldiers at Fort Knox, KY. He returned to Saint Meinrad in 2010 to reside in the monastery infirmary.
The Office of the Dead will be prayed at 7 p.m. on Sunday, September 9, in the Archabbey Church, followed by visitation until 9 p.m. Visitation on Monday will be from 8 to 9:45 a.m. in the Archabbey Church, followed by the funeral Mass at 10 a.m. Burial will follow in the Archabbey Cemetery. All times are Central Time.