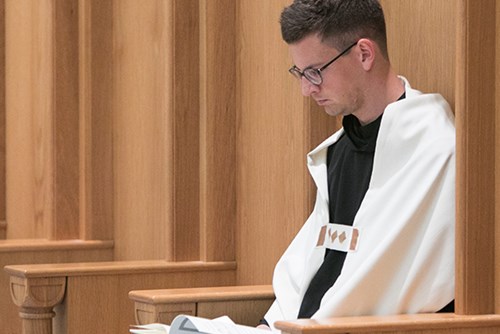 Where are you from? How did you first hear of Saint Meinrad? What did you do professionally before joining the monastery?
I grew up in Findlay, Ohio, and I first learned of Saint Meinrad through our "One Bread, One Cup" youth program – I participated as a high school student in 2005. Coincidentally, that is when I met Br. Nathaniel, who also participated in the program. I then spent three summers on the Hill as a college intern for the OBOC program.
After college, I worked for my fraternity at our international headquarters for a year as an associate editor for our quarterly magazine, and then I worked at Saint Meinrad for three years as the director of alumni relations in the Development Office.
What drew you to monastic life?
Back in college, I read a quote from theologian Frederick Buechner in a class on Christian vocation that reads as follows: "Your vocation in life is where your greatest joy meets the world's greatest need."
Monastic life holds a great balance between solitude and community, and the joy I saw in the monastic community really attracted me to the monastic way of life. I can now say most days here are joyful, and I enjoy sharing the slower, reflective way of life of this vocation with the world that needs quiet time with God.
Since joining the monastery, in what ways have you grown in your relationship with yourself? With God?
One great blessing in monastic life has been seminary formation. Part of seminary formation is the requirement of a summer Clinical Pastoral Education (CPE) experience where we apply to a CPE program where chaplaincy is a ministry – typically at a hospital. In the summer of 2019, I completed my CPE requirement, and it was life changing. I learned that there was a lot I worry about that I do not need to worry about, and that there was a lot I took for granted (relationships, walking, eating, talking, breathing).
Many patients had rough backgrounds in community life, and I find myself nearly every day praising God for my family and this wonderful monastic community. It makes me want to encourage others in the ways they are forming community – whether it is in their family life, athletic or hobby communities, or Church communities.
Regarding God, I am learning more and more how to get out of the way to let God work. Also, much like a married couple of many years who can simply sit and be in one another's loving presence, I am learning to let God love me in his silent, loving presence throughout the day. God continues to help me love Him and my neighbors more and more, too.
Why did you become a monk of Saint Meinrad and not a monk of another house? What about this place and this mission called you to spend your life in service to it?
One of my friends challenged me, in a good way, about why I was joining the monastery. I had recently explained to some friends of his who are not Catholic about the Catholic Church's understanding of asking Mary and the saints for their intercession. He said, "Tim, you are so good at explaining the faith. Why do you not want to be a priest in a parish somewhere?" (My name was Tim before I joined the monastery.)
I explained to him, and I am tooting God's horn because of this gift he has given me, that because of my personality I can hopefully influence the lives of young men who are pursuing the priesthood at Saint Meinrad, and in effect, perhaps God working through me can help encourage those men in their future ministry to impact their future parishioners. Or, maybe I will work with high school and college students, young adults, or guests on retreat and help them build their communities around them.
What Saint Meinrad does well is engage the Church in what the Church needs – I see Saint Meinrad and our work here as being wise pilgrims with the Church that is on pilgrimage to God. We do not wait to catch up to the Church, rather we are doing our best to actively walk with the Church, where She is, guided by the inspiration of the Holy Spirit. It seems this is what monasteries have always done.
Why does the Rule of St. Benedict still matter? What does it have to offer to a secular, post-modern world?
There are so many awesome nuggets of wisdom in the Rule, though St. Benedict's encouraging monks to take off their belt before bed lest they accidentally cut themselves might not be as applicable these days. (Maybe the lesson now should be to put the phone away or close the laptop well before bed!) One offering of wisdom imparted by Benedict is part of my own story – his encouraging his communities to "listen" (this is the first word in the Rule!).
"Simon" in Hebrew means "he who listens, he who obeys, he who hears." For me, listening to God, listening to the community, listening to oneself in monastic life is applicable to the world. When we listen in prayer to the One who created us and reflect on the beauty of the people and creation around us, we begin to appreciate more and more the great dignity and gifts our Creator has given us. God then inspires us to recognize that dignity in others and the created world around us and draw and sanctify all to Him.