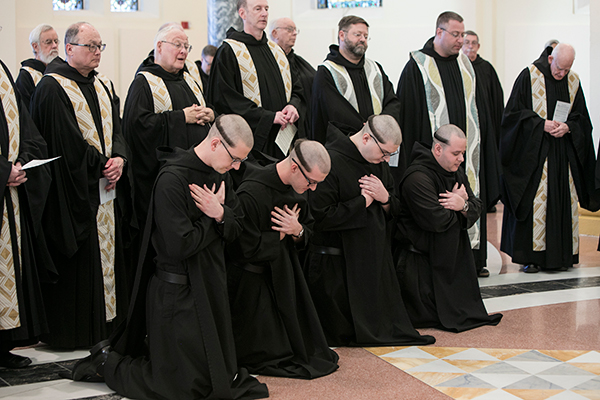 "Whoever exalts oneself shall be humbled, and whoever humbles oneself shall be exalted."
Rule of St. Benedict 7:1
There is no doubt that even a cursory reading of any of the four gospels gives the impression that humility is essential to following Jesus. St. Benedict uses Luke 14:11 (quoted above) as the first line of his longest chapter, Chapter 7, On Humility.
RB 7 outlines the spiritual demeanor proper to a life of "seeking God" in community. Because it is so critical to monastic spirituality, I thought it would be good to spend a few weeks reflecting on this core monastic value and essential Christian virtue.
Our personal self-image is distorted by the conditioning of a worldly society, and by personal sin, so often motivated by the disordered values of a culture that doesn't reflect Godly values. In Genesis 1:26, we read that being like God (God-like or Godly) is what human beings are meant for from the beginning.
St. Benedict teaches that becoming more like God is like climbing a ladder, but what a strange way to climb it is! He teaches that one ascends to Godly "perfection," or fullness, by descending! Yes, by descending from the "heights" of who we think we are, and thus disposing ourselves to being more who God intended us to be.
During childhood and youth, we build a sense of self, an ego, and we spend adulthood asserting it by laying claim to attributes that make us feel powerful and important. The distortion comes when these attributes, rooted in what we cherish as individual accomplishments and personal successes, cause us to feel superior to others in the community, and more important, and thus more worthy of recognition, honor and prestige.
These last things are the very things we "pin our happiness to," such that when others fail to honor us, or acknowledge our accomplishments, we feel slighted and unappreciated – this leads to a loss of inner peace. St. Benedict teaches a better way by holding up Jesus as a model for true happiness. So one can think of the "ladder of humility" depicted in RB 7 as a process of becoming more like God – and, hence, more our true selves in Christ – which is the font of true happiness.
"The first step of humility," writes St. Benedict, "is to keep the fear of God before your eyes at all times" (7.10). Striving to remain aware that one is always seen by God from heaven is the starting point of the ascent. This awareness is the fruit of prayer and the root of true wisdom and happiness. But though we begin by fearing to displease God, we'll see that "fear of the Lord" is indeed only a beginning.