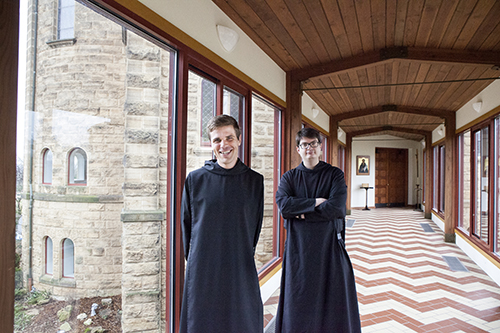 Read the full transcript of this episode
Today's episode in the "Echoes from the Bell Tower" podcast completes a two-part series on community life. This time, Br. Joel Blaize and Br. Kolbe Wolniakowski look at how brotherhood develops among the monks in the monastery.
"This isn't a warehouse of perfect holy people," Br. Joel explains in the podcast. "This is truly 'a school of the Lord's service,' where people are learning how to be holy. That's the real opportunity: to grow in one's capacity to love."
One way to foster community life is through shared traditions, such as the annual Halloween party. Br. Zachary Wilberding and Br. Elias Leeuw tell some funny stories about the games and skits enjoyed at this party. You might want to listen to this episode just to hear Br. Zachary's description of a song-and-dance number to the tune of "My Favorite Things" from "The Sound of Music."
You can listen to the episode at the top of this page or go to iTunes, Stitcher or wherever you get podcasts and download "Echoes from the Bell Tower."
This episode's podcast "extra" is a slideshow of photos from the monastery's Halloween party and other scenes of community life.