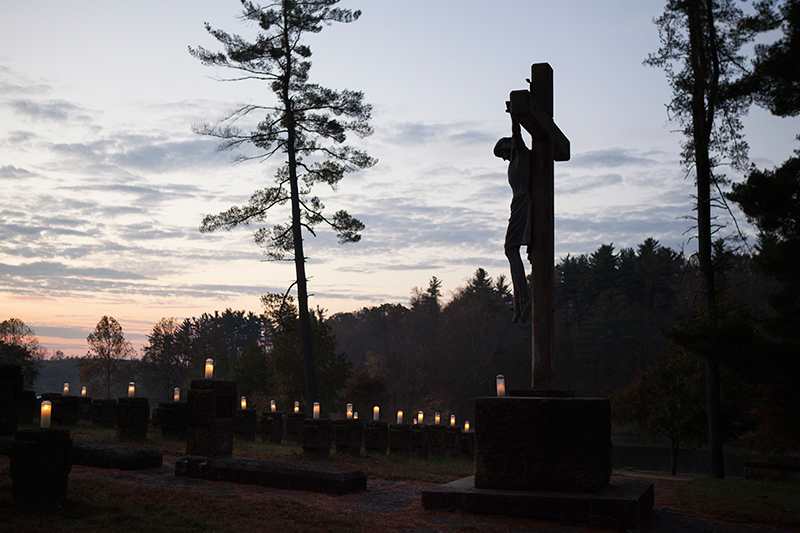 "Day by day remind yourself that you are going to die. Hour by hour keep careful watch over all you do." Rule of St. Benedict 4:47-48
One of the most frequently quoted verses from St. Benedict's Rule is RB 4:47, which is sometimes rendered more literally as, "Keep death daily before your eyes." But, as with most quotations, taken out of context it loses something. In this case, It sounds a little morbid standing by itself, and we Christians are supposed to be people of hope. So, I'd like to put this verse back into its context and reflect on Christian hope, the virtue meant to enhance our lives with joy.

We Christians are fundamentally different than those who don't share our Gospel values. Thus, we should act differently than those who live by "worldly desires" because we believe in the promise of everlasting life given by Jesus, "bringing us to birth with a word spoken in truth … a word that has taken root in you with its power to save you." (James 1:18; 21)

This Word is Christ, poured into us as Spirit and Truth, remaining with us "wherever you may be" (RB 4:49). This is the basis of Christian hope. It's also, as St. James says in his letter, the power (grace) we need to fulfill our calling to be a kind of "first-fruits" of a new creation (James 1:18).

Our hope in Jesus Christ enables us to desire what Jesus himself has already experienced – resurrection and everlasting life. Just before he mentions death, St. Benedict urges us to "yearn for everlasting life with holy desire" (RB 4:46). The challenge for us is this: to live each day rooted in this hopeful stance before God and neighbor, to realize the truth of who we are as people endowed by God's Word (Christ) dwelling in us as Spirit and Life (cf. John 6:63).

St. Benedict instructs us to "never lose hope in God's mercy" (RB 4:74). He seems keen that we keep the awareness of our mortality, and our weaknesses and woundedness, even our moral failings, contextualized by our awareness of God's indwelling Love (Spirit) and God's saving Word (Christ) giving us hope for eternal life in his Kingdom.
We can practice living our faith by keeping our eyes on the goal (everlasting life) and "hour by hour keep watchful care over what we do" (RB 4:48). By aligning our behaviors and actions with Christ, doing nothing inconsistent with Christ, we share in the everlasting life of Christ even now. Thus, by exercising our faith in the promise of eternal life we more fully realize the truth of who we are meant by God to be – that even now we are God's children (cf. 1 John 3:2).

Thus, "we shall through patience share in the sufferings of Christ that we may deserve also to share in his Kingdom!" (RB Prol:50)