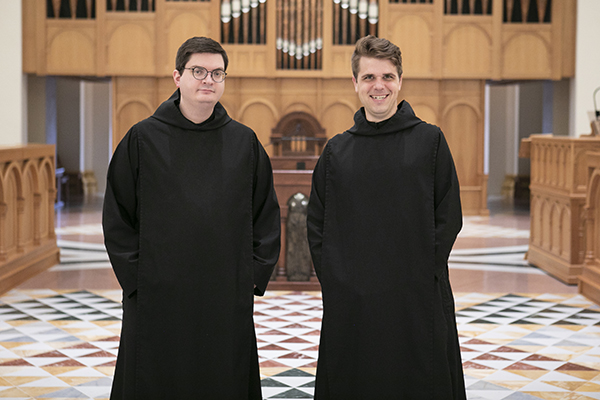 We're back – almost! Season 5 of the "Echoes from the Bell Tower" podcast is ready to launch on Thursday, April 9.

In this season of the podcast, you'll hear stories about student ministry and prison ministry, what it's like to be a monk living off the Hill, and the impact that the monks have as teachers. The underlying theme this season is one of outreach.

And while "outreach" might seem a bit out of tune while we "shelter in place" during the COVID-19 outbreak, outreach – to our guests, parishes and communities – remains an underlying foundation of what Saint Meinrad is about.

Throughout this season, you'll hear from our podcast hosts, Br. Joel Blaize, OSB, and Br. Kolbe Wolniakowski, OSB, of course. But you'll also hear from other monks and some of our seminary students.

Among the featured interviews are Fr. Godfrey Mullen, Br. Zachary Wilberding, Fr. Harry Hagan, Fr. Eugene Hensell, Archabbot Kurt Stasiak, Fr. Guerric DeBona, Alex Crow, Garrett Braun and Fr. Sean Aaron.

If you're a fan of the podcast, welcome back! If you haven't listened before, you can find the podcast on Spotify, iTunes, Stitcher or your favorite listening platform.

To whet your appetite, you can listen to a short preview of this season's episodes on this page.