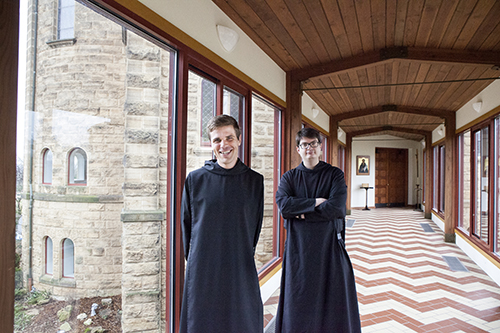 Read the full transcript of this episode
Saint Meinrad Archabbey has been around for more than 160 years, so we tend to hear the same questions again and again.
What is this place? What is a monk? What are those black robes they wear called? How did you come up with this fabulous podcast?(OK, I guess we haven't heard that question as much.)
So it makes sense that our "Echoes from the Bell Tower" podcast hosts, Br. Joel Blaize and Br. Kolbe Wolniakowski, would devote an episode to answering some of these frequently asked questions.
They relied on a panel of experts to answer these FAQs. Joining us on this week's podcast are four Saint Meinrad monks - Fathers Colman, Adrian, Noël and Christian. Here's some background on our monk experts.
Fr. Colman Grabert joined the monastery in 1960 and has held a variety of assignments - organist, teacher, retreat director and gardener, just to name a few.

Fr. Adrian Burke is a spiritual director and retreat master. He also has been a parish pastor and served as the monastery's business manager. He joined the monastery in 1993.

 

Fr. Noël Mueller, like most monks, has had an array of monastic work that includes teaching and giving retreats. Currently, he is a formation dean and a spiritual director in the seminary program. He's been a monk for more than 50 years.

Fr. Christian Raab joined the monastery in 2005. He teaches in the Seminary and School of Theology and oversees the college internship program of Saint Meinrad's "One Bread, One Cup" program.
Thanks to all of them for their help in producing this episode.
You can listen to the episode at the top of this page or go to iTunes, Stitcher or wherever you get your podcasts and download "Echoes from the Bell Tower." Thanks for listening!