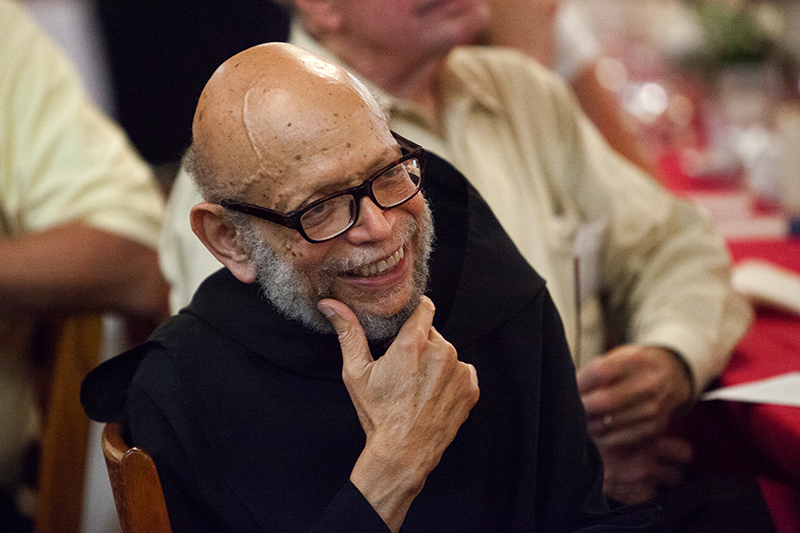 Dear Friends,
As I have watched in horror and sadness the many recent manifestations of the deep-seated racism of our country, I find myself asking what is asked of me at this time.  I'm sure I'm not alone in that.  In my reflection, one concrete step has come to mind as a starting point, albeit, a small step.  I've affectionately dubbed this the "Fr. Cyprian Davis Pledge."
As many of you know, Fr. Cyprian Davis, OSB (1930-2015), was a monk of Saint Meinrad who was a legendary scholar of Church history.  In his groundbreaking book,  The History of Black Catholics in the United States, Fr. Cyprian set out with the "historian's task to make the past speak, to highlight what has been hidden, and to retrieve a mislaid memory" (p. x). 
With that in mind, I have committed to be intentional about listening for black voices and perspectives, to study causes and effects of racism, and to seek concrete ways to share what I learned with others, in my case, particularly in my teaching.  That's what I'm calling the "Fr. Cyprian Davis Pledge."
Now, I'm inviting others to make the Fr. Cyprian pledge their own.  Perhaps you could begin by choosing something to read this summer by a black author and/or pertaining to racism and white privilege.  And, look for one concrete way that you can incorporate black history, a black writer, or issues related to racism into a blog post, a homily, faith formation class, a conversation, or in some other way.  While these steps may be small, they can be a start that leads to your next steps, opening the way to a journey to healing that we can all take together, guided by God.
Many of us here at Saint Meinrad who are making this pledge are sharing our summer commitments with each.  My summer reading commitment is to read a biography of Fr. Augustus Tolton.  I hope that you will share your commitments with your friends and families and invite others to join the pledge as well.
I look forward to seeing what may develop from our small steps together.