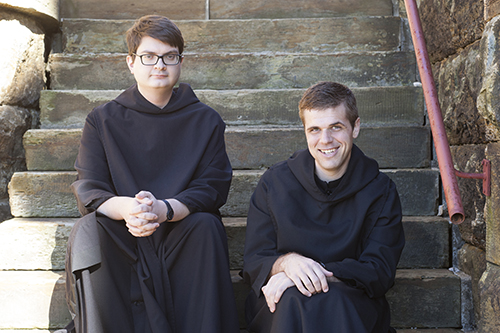 Read the full transcript of Episode 4
Brewing beer. Knitting. Beekeeping. Running. Collecting stamps.
What do all of these have in common? They are hobbies. More specifically, they're among the many hobbies enjoyed by Saint Meinrad monks.
In our fourth episode of the "Echoes from the Bell Tower" podcast, several monks discuss their hobbies with hosts Br. Joel Blaize, OSB, and Novice Tony Wolniakowski, OSB.
You'll hear from a model train aficionado, a junior monk who volunteered (!) to care for bees and harvest honey, and a singing monk-psychologist who plays the cello, bakes bread and throws pottery. 
On this page, we've added some podcast extras. Novice Joshua Leeuw is the voice you hear describing his work with the chickens, which provide fresh eggs for Sunday morning's breakfast.
Brothers Jean Fish and Nathaniel Szidik talk about some of the fun names they've given their home-brewed beers, and Br. John Mark Falkenhain reflects on how hobbies have taught him a specific life lesson. (Remember what I said about throwing pottery?)
Photos on this blog depict some of the monks enjoying their hobbies. The photos of stamp collecting and beer brewing were taken by Sam Oldenburg. The other photos are by Krista Hall.
Remember, you can subscribe to "Echoes" on iTunes, Stitcher or SoundCloud. And let us know what you think by your rating or review. Thanks for listening!
 

Listen to Novice Joshua talk about the personalites of our chickens.

 

Br. Nathaniel and Br. Jean talk about the creative names for their beers.

 
 

Br. John Mark talks about revisiting life lessons through hobbies