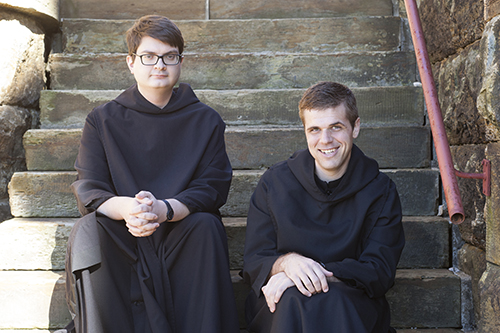 Read the full transcript of Episode 3
Most of us don't get the chance to choose our name. Our parents took care of that for us when we were born. But what if youcouldchoose your name? What would you consider when reviewing your choices? Why would one name resonate more than another?
In the third episode of our podcast "Echoes from the Bell Tower," hosts Br. Joel Blaize, OSB, and Novice Tony Wolniakowski, OSB, take a look at the age-old question: What's in a name?
At Saint Meinrad, monks take a new name when they profess their first (or temporary) vows. In fact, Br. Joel (he was Novice Jonathan until just a few months ago) talks about his new name in this episode. And you'll hear from several other Saint Meinrad monks about what they were thinking about when they were choosing their names.
Oh, and just to make it interesting, a monk actually has to come up with threenames and then let the abbot make the final decision. And then, you have to keep it a secret until the moment you make your vows before the community and sign your vow chart - with your new name. Better practice that signature before the big moment, we found out.
Accompanying this blog post are photos of what a vow chart looks like and of the ritual of first profession - it takes place in our Archabbey Church. Br. William (formerly Novice Matthew) also supplied the card with his name choices.
And if you'd like to hear more stories about how monks choose a new name, listen to the "extras" on this page.
Remember, you can subscribe to "Echoes" on iTunes, Stitcher or SoundCloud. And let us know what you think by your rating or review. Thanks for listening!
Archabbot Justin Duvall, OSB tells the story of how he chose his name.

 

Br. Jean Fish, OSB tells the story of how he chose his name.

 

Br. Nathaniel Szidik, OSB tells the story of how he chose his name.

 

Br. Simon Herrmann, OSB tells the story of how he chose his name.