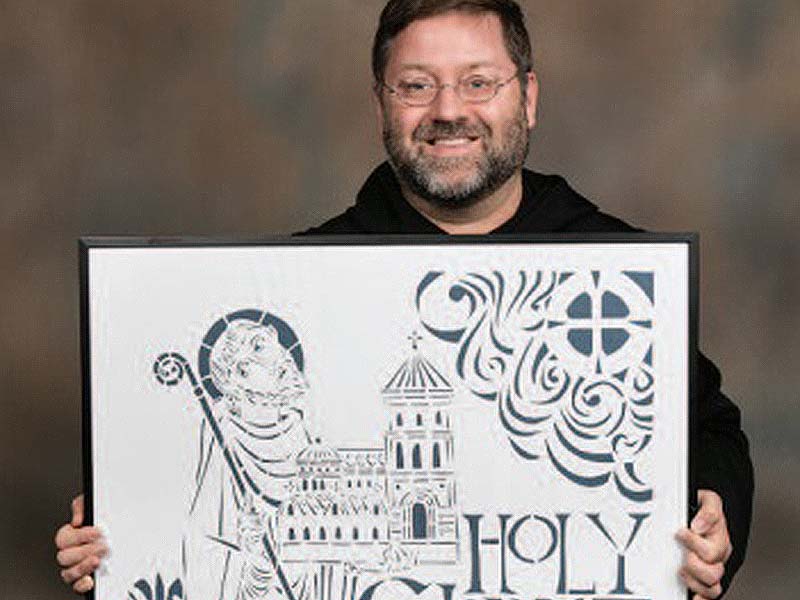 Br. Martin Erspamer, OSB, created cutout artwork for Fr. Christian Raab, OSB, of Christian O'Conarchy, Fr. Christian's patron. The artwork was given to him on his feast day and hangs in his cell (room) in the monastery.
Fr. Athanasius, Br. Thaddeus, Fr. Eberhard, Br. Adelgott and Br. Balthasar are deceased monks of Saint Meinrad who, in the 1800s, chose their religious names. While those names may have fallen out of favor in the monastery, monks today still follow the tradition of taking a monastic name that is rooted in scripture.
Receiving a religious name symbolizes a new mission or calling from the Lord. It implies a death to self and rising to a new life as a monk of Saint Meinrad.
Saint Meinrad follows the tradition of its Swiss motherhouse, where monks receive a religious name at the first profession of vows. During the week leading up to the profession, the novice submits three names to the abbot. He then meets with the abbot to discuss his choices and the abbot chooses one of the names.
There are a few rules for choosing a new name. First, there cannot be two monks in the monastery with the same name.
"We have a common vocation as monks, but then we all have something kind of particular about us that we're hoping to strive for and fulfill," says Fr. Christian Raab, OSB.
"Getting that name is a way for a monk to express not only that they're becoming a monk of Saint Meinrad, but that they have an idea of the particular kind of monk, the particular kind of ideal they're striving for."
The second rule is that the name must relate to a saint. "That name of a patron saint is very often somebody that you look up to or have found a particular significance in, somebody you'd like to imitate," explains Fr. Christian.
The third rule is that the name is kept a secret until the first profession, when the novice announces his new name to the whole community. This adds a little drama and excitement to the profession ceremony.
Fr. Noel Zamora, OSB, is a recent monk to make first vows at Saint Meinrad. He chose the name Mateo, from Matthew, changing it to reflect his Filipino heritage.
Fr. Mateo recalls his first profession in August. "It was amazing because at the same time I was saying my name, I was thinking to myself, 'I can't believe that's me now.' It was so surreal."
Monks choose their names for many different reasons. Some simply look for a name that sounds good with their last name. Others look for a patron saint they admire or try to tie in their heritage or a family name.
Fr. Christian, who was Novice Daniel, submitted "Christian" as his first choice to the abbot, partly because it was his middle name from baptism. He liked the idea that it was a name he always had but had never been known by, just as he's always had a vocation as a monk.
"Taking my middle name as my religious name connected the whole monastic profession back to the moment of baptism when, for the first time, we are adopted by God as his children and really committed to Christ," he says.
The name "Christian" means follower of Christ, and Fr. Christian liked that his name would always be a reminder to follow Christ.
He chose a 12th-century Irish monk who became a bishop as his patron saint, Christian O'Conarchy. His patron has served as inspiration on how to balance his commitments in the monastery and active ministry.
"He is somebody who brought together the ideals of monasticism with priesthood and ecclesiastical service," says Fr. Christian. "I pray to my patron to help keep those things in balance because I see him as a model of that."
Archabbot Kurt Stasiak, OSB, was baptized Walter. As he approached his first profession, he was looking for a name that would carry on his German heritage. There were also two important people in his life named Kurt and he liked the name, so he set out to find a patron saint.
"There isn't a St. Kurt," says Abbot Kurt. "I was in a mad scramble to find how I could suggest that Kurt was actually the name of a saint."
Finally, he found a baby book that said the patron saint of those named Kurt is Constantine. Constantine was an early Church figure who was persecuted for being Christian. He hid in a cave with seven of his followers, and their persecutors sealed up the cave.
"Lo and behold, 200 or 300 years later, people discovered the cave and these people were still alive," says Abbot Kurt. "In the tradition of the early Church, they were some of the early witnesses to Christians' belief in the resurrection."
Br. Francis knew he wanted the name Francis de Sales long before he came to the monastery. Before he joined the monastery, his name was Craig and he worked at The Blade newspaper in Toledo, OH.
Every day he parked his truck in a lot across from the newspaper next to a brick church. At this time, he wasn't living a life of faith, but he had a spiritual reawakening and became interested in that church.
One day he walked around to the front and found out it was called St. Francis de Sales Parish. It turns out that church was the original cathedral in downtown Toledo and that St. Francis de Sales was the patron saint of the Diocese of Toledo.
Br. Francis became curious. He did some research and learned that Francis de Sales is the patron saint of writers and of the press.
"I thought, 'Well that makes sense. It's right across the street from the newspaper.'" says Br. Francis.
He also found out St. Francis believed in the universal call to holiness.
"He was really ahead of his time in that regard," explains Br. Francis. "He maintained that everyone, no matter what state of life they're in, is called to holiness. That resonated with me. People choose their names for a lot of different reasons. For me it had to be someone that I could identify with, someone that could inspire me, someone that could guide me, someone that could intercede for me. Francis de Sales was that person."