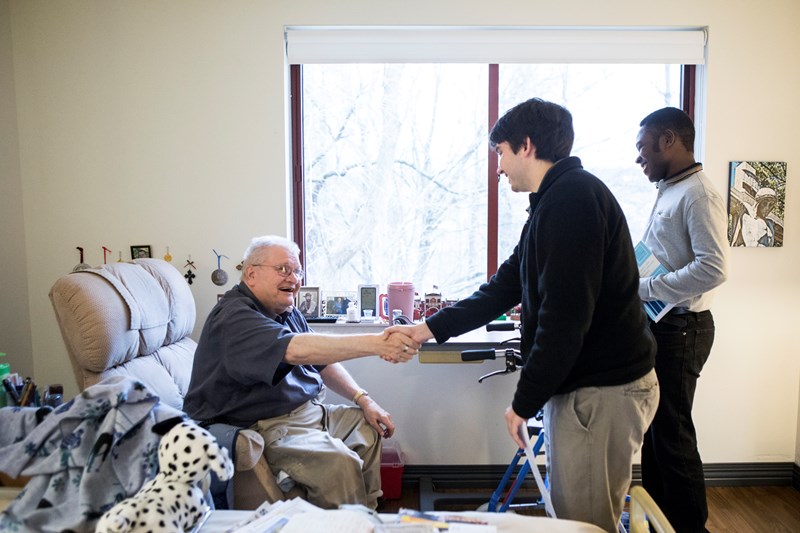 "The workshop where we are to toil faithfully … is the enclosure of the monastery and stability in the community."
Rule of Saint Benedict 4:78
When I arrived at Saint Meinrad as a seminarian in 1990, I quickly got to know some of the monks. My first spiritual director was a monk; and my first mentor in the seminary was also a monk. Father Aurelius was our "floor dean," and he was responsible for watching over me and my classmates as we adapted to our new lives as seminarians – a transition that, for me anyway, was not always easy after just a few years of living as a young man in a very busy world.
Fr. Aurelius liked to hang with us in the corridor while we waited to go downstairs for supper in the evening. It was a sly way for him to keep tabs on how we were all doing. The topic of conversation one evening was about how the monks called their living quarters in the monastery a "cell." I can remember how repugnant that seemed to me, after all, people convicted for crimes are confined to prison "cells" as punishment. How could St. Benedict have established such a beautiful form of religious life and leave us thinking of the monastery as a prison, a place of punishment? Fact is, Benedict never uses the word "cell" in reference to monk's quarters; he prefers to think of the monastery as a school or as a workshop, but the tradition of monks' rooms being called "cells" predates Benedict in the monastic tradition.
Father Aurelius was patient with us newbies, and he tried to explain that a cell, like the cell in a body, reminds the monk that he is part of a body too – a community. After entering Benedictine life myself, I quickly learned from my studies in monastic history that calling the monk's living quarters a cell goes back to the 3rd and 4th centuries, when Christian monastic life began in the deserts of Egypt and Palestine, where monks and nuns were often hermits living alone. The English word monk is derived from the Greek word monos, which means solitary, or alone.
There are many collections of sayings culled from those ancient monks, and many speak about the monk's cell as the place where he encounters God, wrestles with his demons (and sometimes God as well) and learns of what he is made. With enough "staying put" in his cell, the monk can grow and develop an interior life more attuned to God's word than to the "patterns of worldly desire."
To be different than the world the love of Christ must come before all else (RB 4.20-21) and so the monk must be faithful to prayer. Time spent in his cell is where he learns to be alone with God, mulling over God's word, wrestling with his thoughts, and deciding what to make of his life.
Here's one of those ancient monastic sayings: "My son, obey God and keep his commandments, and be wise and remain in your cell, which is your delight, and your cell will remain with you in your heart as you seek its blessing, and the labor of your cell will go with you to God … for you will know God in your cell." - Abba Paul of Tamma: De Cella ("Sayings on the Monk's Cell")
The monk's cell is more than a room where he keeps his stuff; it symbolizes the life of prayer and solitude through which monks come to know God. But the cell also calls out to the monk and reminds him that prayer is the one thing without which he cannot be faithful, either as a monk or a Christian. The monk's cell is anything but a prison, for it is where we monks learn what St. Paul of Tarsus meant by the freedom of the glory of the children of God! (Rom. 8.21)