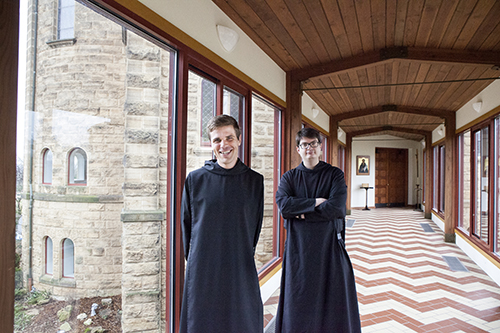 Read the full transcript of this episode
What's an oblate? It's the topic of this week's podcast episode on "Echoes from the Bell Tower."
The Benedictine oblate community affiliated with Saint Meinrad Archabbey has been around almost as long the monastery itself. Oblates are men and women who live and work in the world, but who wish to follow the spiritual path established by St. Benedict.
In this episode, hosts Br. Joel Blaize, OSB, and Br. Kolbe Wolniakowski, OSB, talk with Saint Meinrad Oblate Director Janis Dopp, Oblate Novice Mentor Br. Stanley Rother Wagner, OSB, and oblates Becky Boyle and Nina Castronova of Bloomington, IN.
By joining with the monastic community in prayer and in spirit, oblates learn to find God in the ordinary moments of life. They strive to seek God and apply Benedictine principles to their own lives.
As always, you can listen to this episode at the top of this page or go to iTunes, Stitcher or wherever you get your podcasts and download "Echoes from the Bell Tower." Thanks for listening!