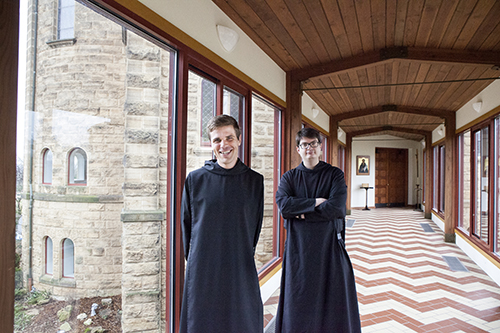 Read the full transcript of this episode
Each summer, hundreds of teens spend five days here at Saint Meinrad as part of the "One Bread, One Cup" (OBOC) conferences.
They learn about their Catholic faith, especially the liturgy, and they are taught skills they can use when they go back to their parishes, schools and communities. And believe it or not, they have lots of fun.
In this episode of "Echoes from the Bell Tower," podcast hosts Br. Joel Blaize and Br. Kolbe Wolniakowski take you into an OBOC conference to find out what all the excitement is about.
We've just finished three weeks of conferences here and a fourth one at Conception Abbey in Missouri.
As in previous years, these high school kids learned to take an active part in the Mass. They spent time each day learning about how to be a sacristan or a lector or an extraordinary minister of Holy Communion or other role. And they discover new aspects to their faith lives.
Saint Meinrad has been hosting the "One Bread, One Cup" conferences for over 20 years. During that time, about 5,000 youth have learned that they have a place in the Catholic Church.
In this post, you can see some photos from this summer's conferences. You can find lots more photos at: https://saint-meinrad.smugmug.com/Youth.
As always, listen to the episode at the top of this page or go to iTunes, Stitcher or wherever you get your podcasts and download "Echoes from the Bell Tower." Thanks for listening!