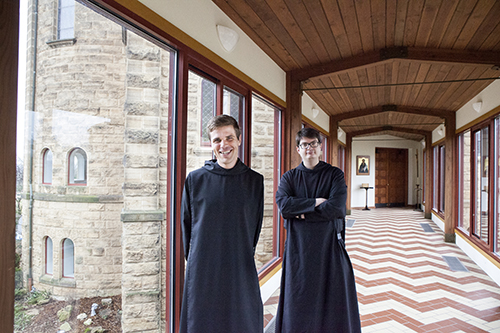 Read the full transcript of this episode
A podcast about peanut butter? Yes, that's the topic of this week's episode of our "Echoes from the Bell Tower" podcast. This episode launches Season 4 of our podcast that features stories of wit and wisdom from the Benedictine monks of Saint Meinrad Archabbey.
About a year ago, a few peanut butter-loving monks began thinking about a healthier alternative to the store-bought variety found in the monastery dining room. That eventually led to a new monk-made product: Peanut Brother.
In this episode, you'll hear about the story of Peanut Brother and how it's become a community project, with monks coming together to make, jar and label the fresh-made spread.
Interested in trying it for yourself? You can buy a one-pound jar of Peanut Brother for $6.99 at the Archabbey Gift Shop or the Scholar Shop. It's also available online at www.smagiftshop.com.
Below, you can see photos of the monks at work in the dining room filling jars with a fresh batch of Peanut Brother, as well as a picture of the product itself.
To read more about Peanut Brother, see the latest issue of our newsletter On the Hill.