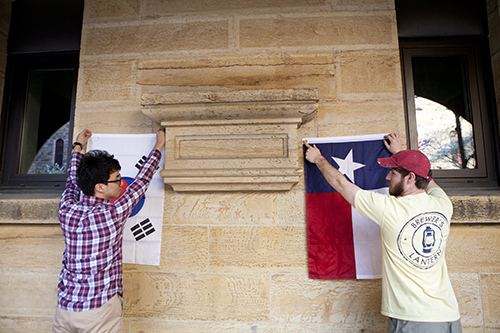 Read the full transcript of this preview
The second season of our podcast, "Echoes from the Bell Tower," will officially kick off in March, but this week we've got a special preview episode to share.
Podcast hosts Br. Joel Blaize, OSB, and Br. Kolbe Wolniakowski, OSB, (the former Novice Tony from last season) take us to the Around the World Party. It's a festive event held each fall and spring at Saint Meinrad.
Seminarians - particularly those from other countries - serve up delicious food and drink and share their cultures with each other and the rest of the community here at Saint Meinrad.
And if you think the American-born students miss out on sharing their favorite foods, you'd be mistaken. The students from the dioceses of Little Rock, AR, and Oklahoma City also were showing off their culinary creations at this fall's party.
The photos here, taken by Krista Hall and Minh Vu, are of the Around the World Party held on October 7. And a special thanks to Br. William Sprauer, OSB, who assisted with the interviews.
Remember, you can subscribe to "Echoes" on iTunes, Stitcher or SoundCloud. And let us know what you think by your rating or review. Thanks for listening!