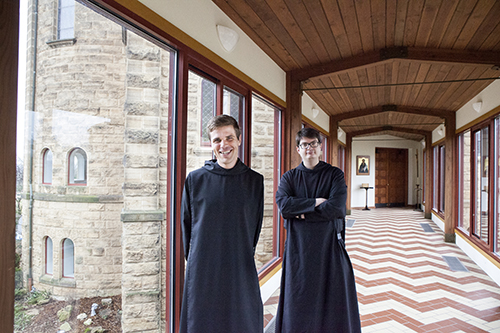 Read the full transcript of this episode
It's time for another season of the "Echoes from the Bell Tower" podcast! The first episode, "Keep Death Daily Before Your Eyes," will be released on March 22.
Now that might sound a bit morbid, but the first episode will be anything but that. Some background may be in order. Benedictine monks follow a guide for community living that was written some 1,500 years ago by St. Benedict.
One of the instructions in Benedict's rule is to "keep death daily before your eyes." It acts as a reminder that the monk is to focus on the goal of a heavenly hereafter - rather than the passing things of this earthly life.
When gathering content for the podcast, we ended up with more than enough stories and memories of monks who have died. One of those monks was Fr. Rupert Ostdick, OSB, who died in January 2017 at age 95.
Fr. Rupert was a gentle man who never failed to express his appreciation for any kindness shown to him. He was also very precise and exacting.
Fr. Rupert had died around the time that producer Krista Hall began gathering audio for the podcast, so many of her interviewees had stories to tell about him.
We put some of those extra stories together in this preview episode to give you a taste of what's to come.
Listen to these memories of Fr. Rupert in the preview episode at the top of this page or go to iTunes, Stitcher or wherever you get your podcasts and download "Echoes from the Bell Tower." Thanks for listening!