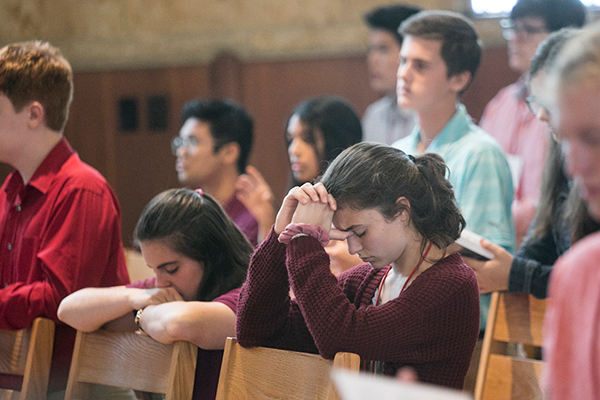 "God regards our purity of heart and tears of compunction, not our many words."
Rule of St. Benedict 20:3
Monks are meant to be people of prayer. Prayer is so essential to Christian discipleship that, without it, a serious Christian life isn't really possible.
To get to know Christ, we have to "sit at the feet of the Lord" and just listen.
This is how we learn from the one who told us that he, the Christ, alone is our "teacher"; we are his pupils, which is what the word disciple means (Mt. 23:8). In the chapter of his Rule entitled On Silence, Benedict reminds us that we are disciples; it is our task to listen, whereas the master's task is speaking and teaching (RB 6.6).
St. Benedict's Rule doesn't say a whole lot about private prayer. He does remind us, however, that "God regards our purity of heart and tears of compunction, not our many words" (RB 20.3). Benedict furthermore teaches that prayer should be "short and pure," though he admits our prayer might be extended should we feel a desire to savor the sweetness of the Lord (cf. Ps. 34:8) and thus prolong our prayer "under the inspiration of divine grace." (RB 20.4)
Pure prayer is prayer with few words (or none!). St. Benedict seems to suggest a quality or state of prayer that goes beyond mere methods for prayer. Thomas Merton, the 20th-century Trappist monk, insisted that prayer is not about methods. Prayer is something more fundamental than the means or methods we use to get there!
"Pure prayer" in the Christian spiritual tradition is a deep state of being present to the presence of God within, which we believe is the Holy Spirit, the same Spirit that filled Christ. Christ, hidden within our own spirits, is waiting to encounter us in the silence within. In the monastic tradition, the main method we use that leads us into that interior silence begins with Holy Scripture; monks call it lectio divina, or holy reading.
As we read the sacred text, we first engage it mentally. If I know anything about the historical background of the text, I might begin with that level. I may then move to meditate on what the text seems to be saying to me morally, perhaps, or spiritually, and I may even engage my imagination "to place myself" within the story, imagining myself to be there, so to speak, as a way to emotionally connect with a gospel passage or story. Thus, by engaging all the levels of one's interior being – mental/intellectual, moral/spiritual as well as feelings/emotions – one more intimately and personally encounters the Word of God.
After some time of praying in this mode – meditation we call it – I typically speak with God. I may, for instance, respond to what I am thinking and imagining by expressing my cares and concerns, intending to lay my needs and petitions "before the Lord God of all things with the utmost humility and sincere devotion" (RB 20.2).
This is what we call vocal prayer, and it too has a place in lectio divina as a way to open the heart more fully to God. We aren't telling God anything God doesn't know, but we are, in a sense, giving consent to the Lord's response by trusting God with our cares (1 Pet 5:7; Ps 55:22).
From there one can enter into the silent, stillpoint of "pure presence." In my view, prayer isn't arrived at in its "purest" form until we've entered the silence. Having done the work of reading and meditating, and expressing our heart's cares and concerns, we then trustingly, with faith, still our hearts and let go of the need to think, say, or "do" anything further.
We surrender control to God and give consent to God's presence and action within us – an intimate quality of presence that is beyond what we think or feel, but by faith we know as real and true. Thus, we arrive at "pure prayer," the essence of what prayer just is. This deeply intimate connection with Christ is what gives us access to the mind of Christ – his ways, his thoughts, and his desires for us and for our world – the source of our hope and the authority of a good conscience.