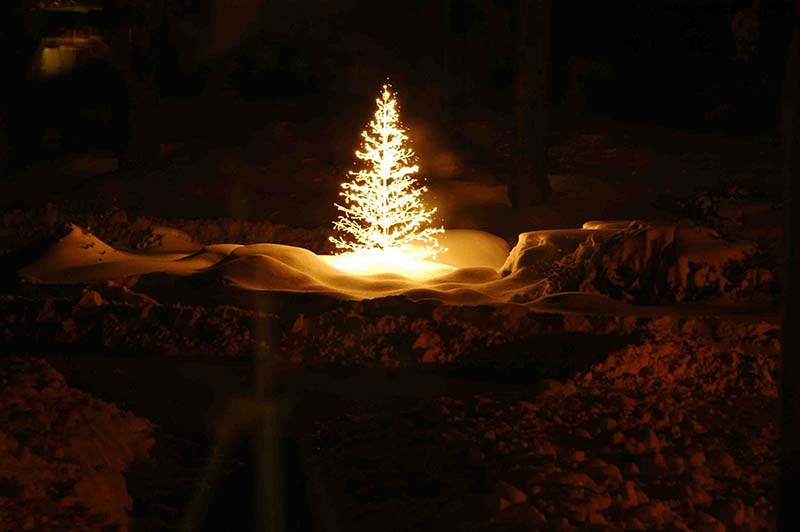 Editor's note: This is part two of a two-part series.
The top Christmas hit in the subsequent year, 1944, was also from a film, Meet Me in St. Louis. In one scene, the teenaged Esther, played by Judy Garland, lies on her bed with her 7-year-old sister, Tootie, waiting for Santa to arrive on Christmas Eve. Esther is coming of age with a budding romance on the horizon.
Tootie loves St. Louis and is anxiously awaiting the World's Fair coming to town the next summer. Yet, their father recently told the whole family that they would be relocating from St. Louis to New York City just after Christmas. Esther and Tootie are devastated, and this last "normal" Christmas in St. Louis is bittersweet.
Tootie tells Esther that she wants to take everything with her to New York, including whatever presents she's about to get from Santa that night. She intends to leave absolutely nothing behind! Despite her own misgivings, Esther does her best to comfort her young sister with a lullaby. She sings, "Have Yourself a Merry Little Christmas."
In the song, Esther acknowledges that, as of now, they are "once again ... as in olden days, happy golden days of yore," still with their "faithful friends who are dear to us," and "who will be near to us once more."
But this will also be the last time that happens. Nevertheless, Esther clings to hope that "someday soon, we all will be together, if the fates allow, until then we'll have to muddle through somehow," "and [so] have yourself a merry little Christmas right now."
Tootie isn't buying any of it. She doesn't trust these anonymous "Fates," and she sees absolutely no incentive to muddling through somehow. For what? For her dad's career? For some distant executive's business plans? She flies into a rage at the end of the song, runs out in the dark into the frozen yard in her pajamas, and pulverizes her family of snowmen with a stick until they are reduced to piles of snow because, she repeatedly screams, she "can't take them with us."
It's a chilling image of a powerless 7-year-old forced to bear the consequences of other people's decisions without any say. She, too, has been robbed of her autonomy, and her sense of security has been stolen. She rejects Esther's sugarcoated musings, and she opts instead to symbolically burn down her own house in a desperate, if misguided, act of preemptive self-defense.
The original lyrics of the song were so much darker that Judy Garland refused to sing them. They were:
Have yourself a merry little Christmas
It may be your last
Next year we may all be living in the past.
No good times like the olden days
Happy golden days of yore
Faithful friends who were dear to us
Will be near to us no more.
By 1957, even the rosier version that was modified for Garland wasn't saccharine and perky enough for Frank Sinatra, who pasted over the reference to "muddling through" and rhymed "somehow" with the exuberant line "so hang a shining star upon the highest bough." With his changes, it became a different song for a different era.
World War II ended on September 2, 1945, with the surrender of the Japanese aboard the USS Missouri. Subsequently, yet another Jewish musical team, Sammy Cahn and Jule Styne, released the first Christmas hit to top the charts at number one since "White Christmas," entitled "Let It Snow! Let It Snow! Let It Snow!"
This first post-war Christmas song celebrates all that the previous ones had hoped for. Here, we again meet a young couple who could not care less that "the weather outside is frightful" or, frankly, that they really "have no place to go." Quite the opposite, the storm outside is a perfect excuse to stay inside and enjoy each other's company. So, they defiantly shrug, "let it snow! let it snow! let it snow!" So what, who cares? They're content at home. Home, together, is all that matters.
The second post-war Christmas hit of 1946, ambitiously titled "The Christmas Song (Chestnuts Roasting on an Open Fire)," by still another Jewish pair, the lyricist Robert Wells and the composer and performer Mel Tormé, peaked at number three that year. For the first time since "Winter Wonderland," we're taken outside the home.
The narrator pans an outdoor scene in New England. We finally made it back to Irving Berlin's "white" homeland! And it's even better than we remembered: a sensuous utopia suffused with feelings of safety, satiety, cohesion, wholesomeness, and inclusivity of "kids from one to ninety-two."
"Yuletide carols being sung by a choir" illustrate its harmoniousness. Though Jack Frost is out nipping noses, it's no bother because nearby there are "chestnuts roasting on an open fire" and "we're dressed like Eskimos." It will indeed be hard to fall asleep tonight with so much expectation in the air, the song assures us.
In this story world, no one wants for anything, and more importantly, no one is absent. Everyone is home, and home is not one house but the whole town, the community restored. In "The Christmas Song," for the first time, we enjoy the fulfillment of the Christmas promise of peace, security, harmony, and fulfillment that we so long awaited through the decades-long Advent of poverty, terror, and global crisis.
We celebrate the simplest of joys, such as roasting nuts and singing carols. Unlike the financially insolvent Santa of "Santa Claus Is Comin' To Town" on the verge of defaulting on this year's toys, children in 1946, for the very first time in a hit Christmas song, were assured "that Santa's on his way" and that "he's loaded lots of toys and goodies on his sleigh." Deliverance has come!
Though some of these war tropes did emerge again in later decades in songs like "There's No Place like Home for the Holidays" (1954) and "Please Come Home for Christmas" (1960), for the most part, audiences were happy to leave the trauma of war behind them and shortcut Advent for Christmas. The celebration of peace and new prosperity went into overdrive in the post-war years.
Christmas became a feast that not only longed for, but realized, in hyperactive, hyperbolic fashion, reunited families, economic security, social mobility, and inclusion. The excess now associated with Christmas took shape in the years of the late 1940s and '50s, initially as an overcompensation and a rebuke of the violence and impoverishment of the first half of the century.
Americans feverishly plastered over the pain and suffering of the Christmases of long, long ago with candy canes, tinsel, and gingerbread frosting, but for dramatic intrigue, never lost it completely with figures like Ebenezer Scrooge and his later incarnations, like the Grinch, always threatening to undue paradise yet again.
The predominantly Jewish composers of the Depression- and war-time Christmas song were understandably a bit cagey about overt references to the Christian feast, even while they were evidently drawn to many of its themes. There are a number of theories about why so many Jewish musicians became so heavily involved in the Christmas song, but a plea for solidarity and community with their Christian neighbors during the war was surely one of them.
Exile and disenfranchisement were experiences European Jews also knew something about. The dislocation of the diaspora had made the home a place of elevated status for religious observance in rabbinic Judaism, even as Jewish homes in the diaspora continued to be intruded upon, confiscated, and forced to relocate.
The untold horrors of the Holocaust revived that awful past once again and ripped Jewish men and women from their homes, separated families, and inhumanly murdered 6 million of their kinsfolk. Some Jewish contemporaries of Irving Berlin wondered how he could be writing Christmas songs in the midst of such atrocity, but he argued it was his war effort to save fellow Jews. The pain, exile, and threat of infanticide felt by Mary and Joseph echoed the experience of so many Jewish families then, as in centuries before.
Not so unlike the war years, the meaning of home has changed for many of us in 2020. This Christmas, home is not a place of gathering, but a place of separation and confinement. Even for those of us together in the monastery, closeness is a looming risk, and we remain somewhat separated through masks and distancing.
Countless families will celebrate apart, and many people, particularly the elderly and infirm, will spend their Christmases alone. The only contract for many may very well be from their family on a Zoom call wishing that they could be there "if only in [their] dreams."
And like Santa in 1934, so many parents may be forced to disappoint their children this year because of economic circumstances beyond their control. Others may even need to leave their homes as unemployment benefits run out. Mary and Joseph themselves may have felt a bit like Santa in 1934 laying their newborn son in an animal trough with absolutely nothing to give him beyond the promise of their care and solicitude, and, like Irving Berlin's "White Christmas" in 1942, separated from all those they know and love.
Mary and Joseph may have also recognized the predicament of the soldier in 1943 who longed to be home for Christmas, but was chased out by world events, stuck in an unknown location, and isolated from their friends and relatives, who themselves may have been preparing the house for their arrival.
Leaving their home in Nazareth for Joseph's ancestral home that he barely knew, only to flee that place unexpectedly for Egypt (if we're allowed to conflate Gospel accounts), Mary and Joseph may have realized Tootie's sense of loss in Meet Me in St. Louis even if they retained Esther's stubborn hope of future reunion.
And yet, the longings of Mary and Joseph for safety, return, and family were eventually met. The wartime dreams of peace and restoration were eventually realized, and thousands of survivors of Nazi oppression set free.
Both the story of Mary and Joseph and the early Christmas songs remind us that the promise of Advent manifests differently every year. The promise of peace on earth is renewed, but not necessarily realized each year as the clock strikes midnight on December 25.
While we celebrate Christmas liturgically on that day, sometimes the reality of Advent drags on for years or perhaps even decades. In the Old Testament, of course, it was centuries. What is important is that we hold on to that memory of home and that ideal of what should be according to the promise of Christ's coming.
Unlike the "home" song in the 19th century, in the Christmas song, home and family are synonymous. God's condescension into the human family as a newborn baby restores our fractured earthly home and reunites us with him at a common table. While we anticipate his promise that he is incarnate among us and that he'll "be home for Christmas," we prepare this Advent by readying our houses.
But we also know not to expect a knock on the door or a divine visitor popping down the chimney. The particular challenge of Advent is that, inconveniently, Jesus was not born at home, or even in a home. He lacks an address or a stable residence. We're left to set out in the cold and search the unlikeliest of places. The season of Advent is not a Christmas feast, but a time of wandering, waiting, and searching.
We recall how Christ comes to us through our families, confrères, friends, guests, and colleagues, and we show them our affection and appreciation "with every Christmas card [we] write." But the harder task that Advent calls us to is to gather our family into our home. That family is ultimately the human family and, at Christmas, now includes God incarnate himself.
We must set out to find that baby born off the side of a road to itinerant parents, prodded out of their own home, and looking for shelter in ours. But we must also open ourselves to those others in the human family that we may have chased out: those we don't like, those with whom we don't agree politically or otherwise, those who have harmed us in the past, those who demand something from us.
During Advent, we recognize our vulnerability, our powerlessness, our smallness, and our incompleteness. We don't control much individually, but we do control our attitude, our hope, and our openness. As Christians standing alongside God among us, we are unintimidated that "the weather outside is frightful" and boldly and unapologetically proclaim, "Let it snow! Let it snow! Let it snow!"
Br. John Glasenapp, OSB, is a monk of Saint Meinrad Archabbey and director of the Saint Meinrad Institute for Sacred Music. He earned a master's in medieval studies from Fordham University and a doctorate in historical musicology from Columbia University with a specialization in chant.