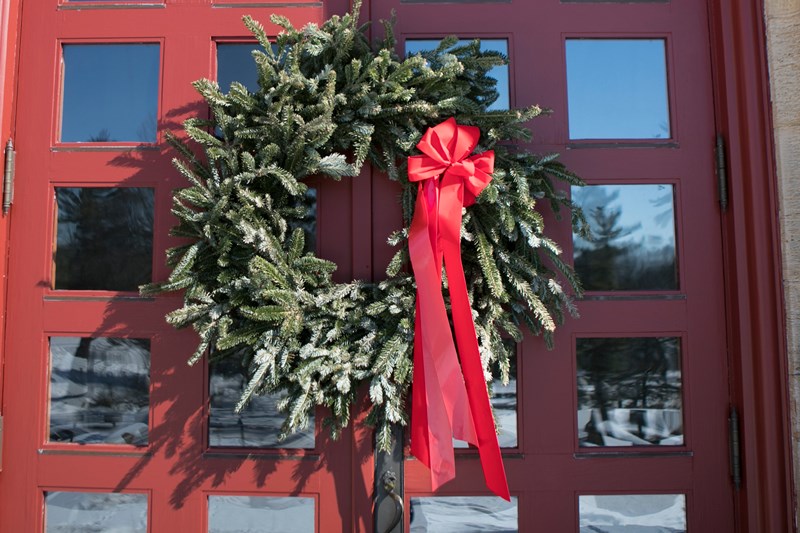 Editor's note: This is part one of a two-part series.
It's that "most wonderful time of year" again!
With the kids jingle-belling,
And everyone telling you be of good cheer...


There'll be parties for hosting
Marshmallows for toasting
And caroling out in the snow.


There'll be scary ghost stories
And tales of the glories of
Christmases long, long ago.
There's just one problem. What time is it, exactly? While we all agree that it is the most wonderful, there's no consensus about why. Some people call the month of December holiday time, others Christmas time, and still others greet it as a season. Of course, we know differently! It's not Christmas at all, but a little-known season called Advent.
Nearly every year, the fight over the encroaching secularity and materialism of Christmas takes on the force of a cultural crusade battling for the soul of the nation. But it wasn't always so, it's claimed. Christmas used to be a religious affair, enjoyed by families gathered around a common table. Whatever gifts there were were humble and few.
Nowadays, it's a consumerist frenzy overtaken by crazed hordes waiting outside in the dead-of-night ready to stampede or running through malls without masks or appropriately distancing. What happened, we ask? How did the feast of Christ's birth become this? What went wrong? And whatever happened to Advent?
The Gospels do not tell us much about the first season of Advent. Nearly everything we learn about the days of Mary's pregnancy comes from the Gospel of Luke. Luke informs us that a very pregnant Mary got some very bad news at a very inopportune time just as she was probably babyproofing the house and tying up loose ends. Friends and relatives may have already moved in to help or were perhaps on their way when Mary got wind that:
In those days a decree went out from Caesar Augustus that the whole world should be enrolled. This was the first enrollment, when Quirinius was governor of Syria. So all went to be enrolled, each to his own town. And Joseph too went up from Galilee from the town of Nazareth to Judea, to the city of David that is called Bethlehem ... to be enrolled with Mary, who was with child. (Luke 2:1-5)
Caesar's decree meant that Mary would abruptly have to leave home and part with any friends and relatives able to help her in the days and weeks after childbirth. Instead of preparing the house, she would now need to straddle a donkey, travel to her husband's legal "home" that he had probably barely ever visited before, and hope for the best. But it gets worse. Luke continues:
While they were there, the time came for her to have her child, and she gave birth to her firstborn son. She wrapped him in swaddling clothes and laid him in a manger, because there was no room for them in the inn.
The glut of travelers on the road meant that Mary and Joseph had become temporarily homeless. She went into labor en route before they had time to return to Nazareth and took refuge in an animal barn. Joseph, a reliable handyman, quickly converted a feeding trough into a makeshift crib.
Depending on the timeline of events, it is conceivable that he may even have had to abandon Mary in the barn so that he could complete the enrollment process. Whether Mary actually spent much time alone in that stinky shed, she must have felt very alone and perhaps even a bit unsafe.
After Christ's birth, the Gospel of Matthew pours on the distressing news. This time,
...the angel of the Lord appeared to Joseph in a dream and said, "Rise, take the child and his mother, flee to Egypt, and stay there until I tell you. Herod is going to search for the child to destroy him." Joseph rose and took the child and his mother by night and departed for Egypt. He stayed there until the death of Herod, that what the Lord had said through the prophet might be fulfilled, "Out of Egypt I called my son." (Mt 2:14-15)
One compulsory flight from home compounded upon another because of political circumstances beyond Mary and Joseph's control. Their families back home were doubtlessly worried.
So, to return to my earlier question, how in the world did the tumultuous and anticlimactic setting of Christ's birth morph into the carefree winter wonderland populated by our friends Frosty the Snowman and Rudolph the Red-Nosed Reindeer? And what happened to Advent?
The popular (secular) imagination around Christmas and its attendant and ever-growing cast of characters like Frosty, Rudolph, and the Little Drummer Boy began rather innocently in 1934 with the invention of a new musical genre: the Christmas song.
Written by the Jewish composer Felix Bernard to lyrics by a young Episcopalian named Dick Smith, "Winter Wonderland" was the first of its kind, and an instant success on the charts. That same year, "Santa Claus Is Comin' To Town" was also released, though to less acclaim. These songs were decidedly secular in the sense that they did not actually refer to Christmas, but they were hardly materialistic or consumerist either.
These were songs of the Great Depression, and they were careful to avoid any false hopes of material receipt. Santa Claus may be coming to town alright, but there's no indication that he's actually bringing anything.
We know that "he's making a list, [and that he's] checking it twice, he's gonna find out who's naughty or nice. Santa Claus is coming to town." But we don't know why. The song stops short of telling us. The reward of toys is implied if you know something about Santa, but never mentioned.
Five years into the Great Depression, even Santa had to admit that he wasn't in control of global macroeconomics. He does plan to bring hope, at least. Santa might be poor, but he isn't dead, and he still cares and still intends to visit.
Santa must have felt like so many parents in the 1930s: wanting the absolute best out of their children, but unable to provide for them in the most basic ways. Those quintessential joys of parenthood were robbed from that generation of parents. Santa could never directly express that pain, of course, but his silence is telling.
Likewise, in "Winter Wonderland," we meet a young couple taking a walk in the snow. They build a snowman and flirt that they might get married someday. "Later on, [they'll] conspire, as [they] dream by the fire, to face unafraid the plans that [they] made, walking in a winter wonderland."
It's a cheery song upbeat about the future. Perhaps in a nod to its Jewish origins, the lyrics do not mention Christmas, and therefore the song also craftily sidesteps any references to food or gifts. The song celebrates hope, imagination, youth, and play even in the darkest, snowiest days of the year.
The example of the young couple, who need nothing more than each other to be happy, challenges negative attitudes, heavy hearts, and misguided preoccupations during a difficult time. Life, even exposed outside in the dead of winter, is still a wonderland.
Despite these hits of the Great Depression, the phenomenon of the "Christmas song" as an annual seasonal hit did not take off in earnest until 1942 when another Jewish composer, Irving Berlin, wrote "White Christmas." The United States had just begun to crawl out of the Great Depression when Pearl Harbor was bombed on December 7, 1941, and the nation was thrust into an unthinkable second World War just before Christmas.
Young couples, like those we just met playing outside in "Winter Wonderland," were suddenly yanked apart and either conscripted into war or recruited to work in wartime factories. Goods were rationed, and the future again grew bleak and precarious. When it was released months later, Berlin's "White Christmas" instantly became an anthem for millions of Americans struggling to cope with so many empty chairs around the Christmas table as tens of millions of young men were either already shipped off to war or soon expected to be.
Berlin's song was hailed as a "peace song in wartime," but he said he hadn't initially intended to write a war song. He had been working on a film called Holiday Inn that would feature songs for different holidays throughout the year. In the first verse of "Winter Wonderland" that was eventually cut, the semi-autobiographical protagonist is stuck alone in Los Angeles on Dec. 24 and has no way to get back to his home in New England.
He finds himself surrounded by palm trees, which ordinarily would be idyllic, but at Christmastime, they remind him instead of just how far away he was from everything he knows and loves. He pines for a "white Christmas, just like the ones [he] used to know."
To cope with his loneliness, he starts writing Christmas cards to his loved ones, wishing each of them that at least all their Christmases be white. He, of course, is not cursing them with inclement weather. "White" for him signifies home, belonging, togetherness, family. A large part of the song's success was its popularity among soldiers abroad, who even in May of 1942, when Holiday Inn was released, were already dreaming of a white Christmas themselves.
Surprisingly, the new genre of the Christmas standard, of which "White Christmas" became the most important and influential example, is not related at all musically to the Christmas carol, as we might expect, but rather to the so-called "home" song of the 19th century, which includes other favorites such as "Home on the Range," "My Old Kentucky Home," and "Home! Sweet Home!"
Home became the dominant theme of the Christmas song during the war years, not because home was a majestic and amazing landscape where buffalo roam and the deer and the antelope play, but because the sense of home was now besieged, lost, or inaccessible by forces beyond anyone's control. The ideal of home after the bombing of Pearl Harbor retreated overnight from the realm of reality into the protected reserve of nostalgia.
If "White Christmas" was not explicitly about the war, the next year's Christmas hit of 1943 certainly was. Like the protagonist in "White Christmas," who muses about home while he fills out Christmas cards, "I'll Be Home for Christmas" takes the form of a letter. This letter begins like those that so many American families were desperate to receive in 1943, announcing that their loved ones were safe and finally coming home, and even better, just in time for Christmas!
After immediately announcing that he's coming home, the author, who's clearly a solider, anticipates our disbelief and assures us that, "you can count on me." He instructs his family to start getting ready, and that he'd like them to "please have snow and mistletoe, and presents by the tree." He wants his return to be perfect. He sets his eager family to work decorating the house in anticipation of his homecoming.
But then, after much buildup, we get the sucker punch. "I'll be home for Christmas ... if only in my dreams." He's not coming home after all, and maybe ever. We still don't even know where he is or what he's doing.
This song, also written by a Jewish composer and lyricist, is a ballad of false hope, loss, and brokenness that spoke to a hurting nation with touching intimacy. It expresses our smallness and powerlessness to determine our own fates in the crushing light of global events.
Next week: Br. John concludes his post on "The Season of Advent and the Popular American Christmas Song."
Br. John Glasenapp, OSB, is a monk of Saint Meinrad Archabbey and director of the Saint Meinrad Institute for Sacred Music. He earned a master's in medieval studies from Fordham University and a doctorate in historical musicology from Columbia University with a specialization in chant.