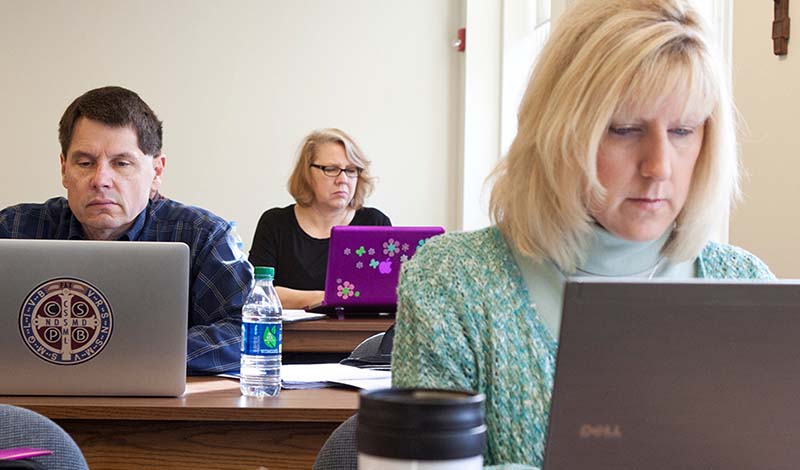 While most people know that the monks of Saint Meinrad run a seminary, many are less familiar with the Graduate Theology Programs geared toward lay people and deacons. Students commute from the local area and study alongside seminarians, or come from a greater distance for weekend or intensive residency courses. Others study online.
While many are studying for the 36-credit master's degree in theology, others prepare for particular kinds of service by pursuing one of seven 18-credit specialization certificates, in everything from Church History to Spirituality.
Here's what some of our alumni of the Graduate Theology Program have to say:
"The desire to know, love, and serve God led me to the doorsteps of Saint Meinrad in 2016 in pursuit of a master's degree in theology. Saint Meinrad has met me where I am, and has led to a place where I can hear and answer God's call. I can only imagine what God has in store for me in the future."
-  Lisa Marie Taylor
"I had a wonderful opportunity to spend a year as a full-time student at Saint Meinrad. This meant that I attended weekday classes with Saint Meinrad's seminarians. It was truly inspiring to study and pray alongside faithful men who are dedicating their lives to prepare for the priesthood."
-  Brandy Norton
"Those who come to Saint Meinrad study under the finest faculty anywhere. And when they leave, they are fully prepared to spread the Good News to every corner of the globe."
- Deacon Sean Caveny
"The reason that Saint Meinrad offers such a superior theological education is because every part of Saint Meinrad speaks of God. The natural beauty of the grounds teaches me to rest in the goodness of our Creator. The monks as they walk in liturgical procession are like living prayers that remind me of God's presence. I learn much from my professors and class experiences, but the monastery itself is a great spiritual gift to all who are fortunate enough to study there."
- Mary Grady
If you or someone you know would like to learn more about becoming a student at Saint Meinrad, please visit /graduate-theology/how-to-apply/. Applications are accepted throughout the year.