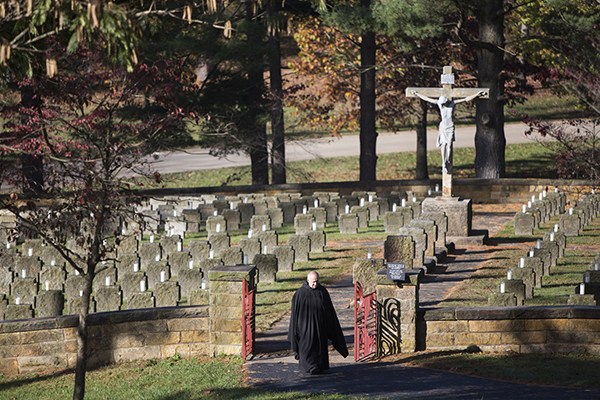 This idea of the spirit of silence caught my attention when I first came to read the Rule of St. Benedict several years ago. Then later, when I was a lay student at Saint Meinrad, I became more and more intrigued with silence, desired to understand it better - and felt God's call to pursue its wisdom.
I felt God's gentle love in this pursuit, helping me notice characteristics of my personality that are certainly gifts and the very nature of who I am, but also, if not kept in check, can very easily lead me into sin. You see, I love people, I love their stories, I love conversation, I am an external processor by nature - and as a result of those tendencies, I talk a lot and my tongue is never very still; maybe some of you can relate.
From Proverbs, St. Benedict points out, "In much speaking you will not escape sin" (Prov. 10:19). As I have continually worked to purify this within myself, I have been grateful for the Benedictine way and the influence of Saint Meinrad, which has helped me come to know a place of interior quiet, a place to still myself, a space deep within to help me listen with the ear of the heart as I strive (strive being the operative word!) to grow in holiness. It does not surprise me, then, that this chapter is where God spoke to my heart when asked to offer this reflection.
Let's look at this from the broader perspective: what is the ultimate goal here as we sit with this lesson on silence that Benedict offers? Could it be the same goal we have in everything we do as Christians - to authentically love as Christ loved? It is not simply about silence for the sake of silence or for our own personal gratification or achievement nor for punishment.
No, it has to do with that deep desire we all possess from our Creator to be love for the world, to be in the presence of and attentive to our loving God, to allow love to speak and to discern what is the loving response to all that there is to respond to in a lifetime. It is about the charity in our hearts and in our words.
More words from Scripture to consider…. From Psalm 39:2-3 we hear, "I said, 'I will guard my ways, that I may not sin with my tongue. I have set a guard to my mouth.' I was mute and was humbled, and kept silence even from good things."
Yes, even from the good things. It is not just about avoiding saying the wrong thing, but about listening, so that we become more of what we listen to, become more of the good thing, become more of the good of God. For the world so needs God.
And while Benedict is referring to the spoken word, can we not see the value of this lesson in the way we communicate on a daily basis electronically, in our media-driven world of today? I'm sure we've all heard cautions about pausing first before we post, text, etc. But consider it from Benedict's perspective, "So that in all things … God may be glorified."
Do we give consideration to the glory of God in all that we communicate to others? What if we were to pray before we spoke, before we hit send, before we dialed that number - a simple prayer, a simple mantra, a simple word - that helps us to pause and ask God's opinion of the words we are about to say or use. For Benedict reminds elsewhere in the Rule, "Your way of acting should be different from the world's way; the love of Christ must come before all else."
A quiet pondering heart that discerns before speaking, even of the good things, is always careful to never to go too far and cause hurt or embarrassment at another's expense. Pope Francis' Joy of the Gospel is filled with invitations, or directions really, to live this way. He calls us to open the doors of our Church, figuratively and literally, to become like "a mother with an open heart." He says, "It is better simply to slow down, to put aside our eagerness in order to see and listen to others."
And in God's goodness, we have a model in Mary, the first and perfect disciple…For she pondered all these things in her heart. I was invited one time to pray for a quiet heart. And of course, Mary came to my mind and to my aid. And while this talking thing will always be a struggle for me - and maybe for some of you too - the struggle is an important one. Let's stay the course and pray for and be a quiet heart in the midst of a noisy world.