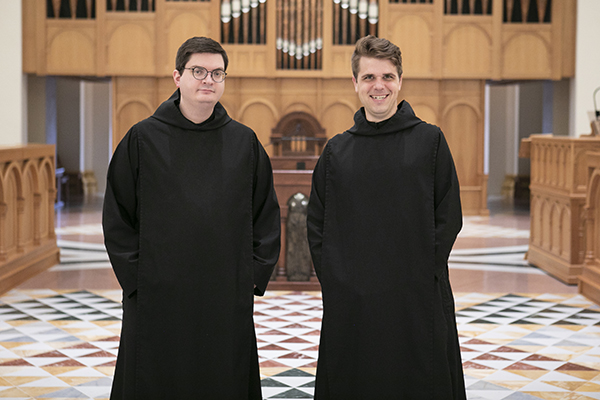 Read the full transcript of this episode


It's interesting to hear what family members think when one of their own decides to study for the priesthood. Are the parents disappointed that there will be fewer grandchildren? Are siblings worried that their brother will no longer have time for them?
But what if both your brothers became priests? What if both of your sons became priests?
That's what happened in the Friend family. Brothers Patrick and Joseph Friend studied together at Saint Meinrad Seminary and School of Theology. Patrick was ordained in 2018 and Joseph will be ordained this summer – both for the Diocese of Little Rock, AR.
In this episode of the "Echoes from the Bell Tower" podcast, hosts Br. Joel Blaize and Br. Kolbe Wolniakowski introduce you to the Friend family – Patrick and Joseph, along with their sister, Katherine, and their father, Jerry.
Listen in as Patrick and Joseph talk about finding their way to the priesthood and how their family was an important part of that decision. Plus, Katherine and Jerry talk about the impact of that decision and how it has blessed them in many ways.
And if you haven't listened to our earlier episodes where monks and their families talk about what's it like to have a religious in the family, please check out these two episodes:
Episode 21: It's All in the Family – Lifetime Commitment
Episode 22: It's All in the Family – Following God's Call
As always, you can listen to this episode at the top of this page, or go to iTunes, Spotify, Stitcher or wherever you get your podcasts and download "Echoes from the Bell Tower." Thanks for listening!
And watch for one more episode this season, this one on how the monks at Saint Meinrad are coping with the COVID-19 pandemic and its effects.