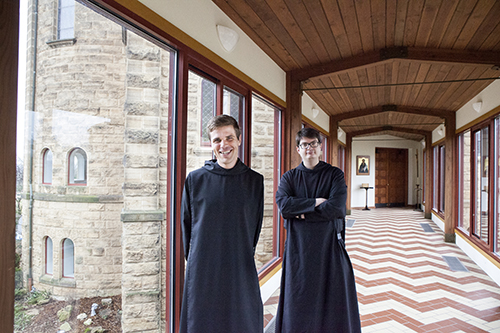 Read the full transcript of this episode
Today begins the celebration of the three most important days in the Christian faith - the Triduum.Triduumis Latin for "three days," and it refers to Holy Thursday, Good Friday and Holy Saturday.
In this special podcast episode, you'll hear how the Benedictine monks at Saint Meinrad commemorate the Last Supper, the Crucifixion and, finally, the Resurrection of Christ.
Our podcast hosts, Br. Joel Blaize and Br. Kolbe Wolniakowski, take you behind the scenes of last year's Triduum to explain how the monastic community shares the work and the joy of these final days before Easter.
The photos on this blog are from the 2018 Triduum, including a photo of what the "clacker" looks like (you can hear it at 9:50 in the podcast).
There is also some bonus audio, as Archabbot Kurt Stasiak and Fr. Peduru Fonseka describe what it's like to play significant roles in the Holy Week liturgies.
To view Saint Meinrad's schedule of Holy Week liturgies, visit this link. And next week, we'll post another episode to enjoy - this one about Triduum memories.
As always, you can listen to this episode at the top of this page or go to iTunes or Stitcher and download "Echoes from the Bell Tower." Thanks for listening!