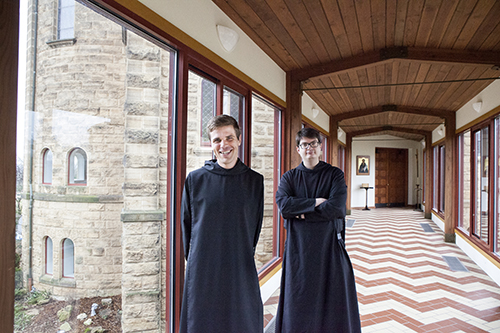 We're excited to be releasing some new podcast episodes this fall! While many of the previous episodes of "Echoes from the Bell Tower" have focused on monastery life or life in the seminary, these new episodes will take you along as Saint Meinrad reaches out into the world.
Here is a peek at some of the podcasts coming soon:
When a man chooses to become a monk, the decision has an impact on lots of other people, most notably family. Listen to what family members say when one of their own joins the monastery.

What's an oblate, anyway? Are they like monks? In this episode, men and women who are oblates talk about why this form of spiritual connection to Saint Meinrad has been so valuable to them.

Each year they are in seminary, priesthood students are assigned to do some form of real-life ministry. Listen in as seminarians talk about their experiences of ministry - and how it prepares them for their vocations.

Most monks live and work at the monastery. But others live and work away from Saint Meinrad. Our podcast team talks to one monk who is pastor of a parish in a nearby city. He brings Benedictine spirituality and hospitality to his parishioners.

A monk's lifelong devotion to studying and teaching Church history earned him national prominence when his book on the history of black Catholics was published. This episode tells how his groundbreaking book helped black Catholics recover their voice.
Be sure to join hosts Br. Kolbe Wolniakowski, OSB, and Br. Joel Blaize, OSB, in these new episodes. To get you started, listen to the trailer on this page about the upcoming shows.
Next Thursday, October 15, we'll release the first new episode - about Benedictine oblates. Don't miss it!
As always, you can listen to the trailer at the top of this page or go to iTunes, Stitcher or wherever you get your podcasts and download "Echoes from the Bell Tower." Thanks for listening!