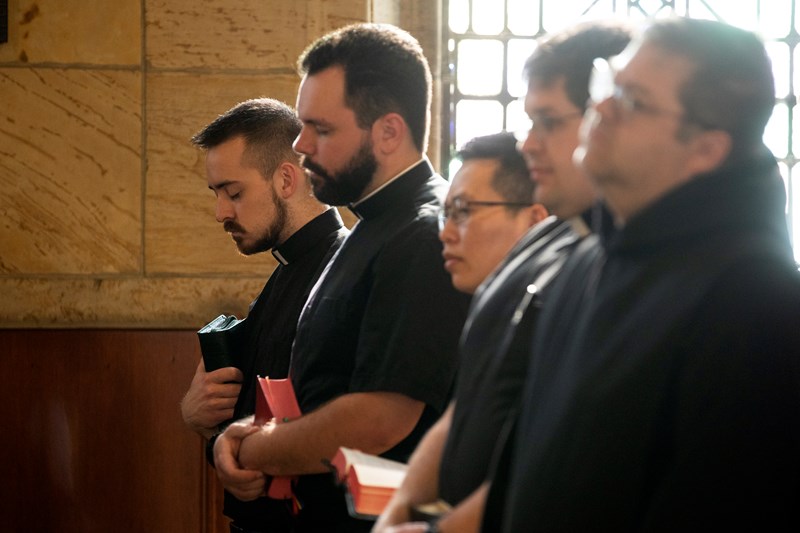 As I look through the 2022 Year in Pictures, the word that comes to mind is "gratitude." A lot happens in a year, especially at Saint Meinrad. This year was a lot like other years, with professions and ordinations, lectures and conferences, jubilees and funerals. The campus continued to recover from the pandemic. There were fewer masks on campus and more people at conferences.
Our photos capture the big events that are easy to give thanks for and the small moments that we often take for granted. Moments like the beautiful winter mornings, the monastic traditions lived out here every day, the donors who support the work of Saint Meinrad, the peacefulness of the grounds and all those who leave here ready to serve the Church and bring people closer to God.
There are so many things here at Saint Meinrad to be grateful for, but for me, I am most thankful for another year, my tenth year, of documenting life at Saint Meinrad. It has been a great joy to create a visual historical record of Saint Meinrad for the last decade.
Here are couple of the major highlights from this year…
In the Monastery
Gregory Morris professed first vows on January 20.
Nathaniel Szidik and Br. Kolbe Wolniakowski were ordained priests on June 5.
Basil Lumsden professed solemn vows on August 15.
Three monks passed away, Br. Mario Ibison (January 19), Br. Raban Bivins (September 6), and Br. Giles Mahieu (October 25).
In the Seminary and School of Theology
A new organ was installed in the St. Thomas Aquinas Chapel. The seminary chapel was temporarily located to the Newman Dining Room while the organ was being installed.
Forty-eight students received master's degrees from Saint Meinrad Seminary and School of Theology on May 14.
The "Forward Together: For the Life of the Church" campaign ended on June 30, raising $11.14 million.
Joe Ziliak was posthumously awarded the Distinguished Alumnus Award during the Alumni Reunion on August 2.
Fall semester in the seminary opened with 43 new students, bringing enrollment to 121 seminarians, the largest enrollment since 2013.
Saint Meinrad put into place the propaedeutic year, a year of spiritual and human formation for seminarians who did not attend college seminary. The new program began with 10 seminarians.
On Campus
Renovation work began on the Archabbey Library and St. Anselm Hall, funded by the "Forward Together" campaign.
The building that housed the Shoe and Tailor Shop was demolished. The Tailor Shop relocated down the hill to the former packing plant building.
An extra thank you to our student photographers, Rolando Perez and Daniel Cooper. To view the whole gallery of images, visit https://saint-meinrad.smugmug.com/Photography/Year-in-Pictures-2022/