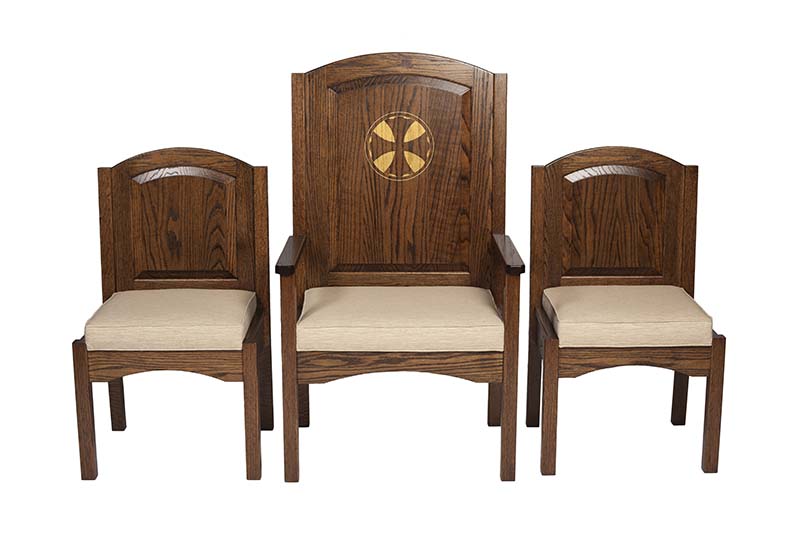 Since 2017, the Abbey Caskets workshop has been in place on the Saint Meinrad campus. Last year, the craftsmen there turned out hundreds of handmade caskets, cremation urns and keepsake crosses.
But when the builders are not working on those items, they are designing and building custom furniture for parishes and individuals.
Abbey Caskets Director Jenny Keller and Assistant Director Teresa Dilger have been with Abbey Caskets since almost the beginning. They understand that when people order a casket for their loved one, it needs to be ready to ship immediately. With that in mind, all styles of caskets are kept in stock so they can be delivered as needed.
To balance the "at need" part of the woodworking business, about five years ago they developed Abbey Woodworking to provide custom furnishings that can be ordered when churches need new or replacement furnishings.
The on-site workshop makes that possible as well. "We have more control over the design, what the customer's looking for, if they want a certain finish – just all those kinds of pieces," Keller says.
The variety of custom pieces has included presider's chairs, altar server chairs, chapel kneelers and chairs, personal kneelers, cremation urn carriers (used at funerals), tabernacles and chalice carriers.
Last year, Abbey Woodworking built the altar, ambo and candle holders for the new Holy Angels Church in Indianapolis. "That was a very unique piece in that it had an arched base," says Keller. "We had to do a process of laying laminate pieces and gluing them together on a curved board to get that arch."

It's a challenge the woodworkers enjoy, a nice counterpoint to building the caskets and cremation urns that are typically the same designs repeated in different woods and finishes.
In one case, for example, a church sent Abbey Woodworking a photo of a carved wood design in the church. "We engraved that onto their presider's chair so that it would match the design in their church," Keller explains.
Abbey Woodworking is trying to carve its own niche in the church furnishings business. "We're trying to offer that one-of-a-kind piece that you can get and nobody else will have it," says Dilger. In addition, the new division also has some pieces on its website that are ready to order. Examples include presider's chairs and personal kneelers.
To view some of the recent work, visit abbeywoodworking.com.