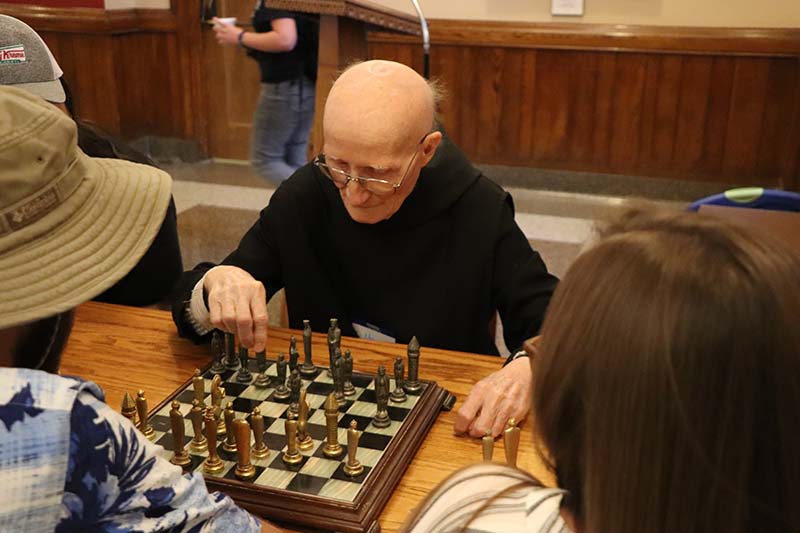 Br. Mario Ibison, OSB, a monk of Saint Meinrad Archabbey, died in the monastery infirmary on Wednesday, January 19, 2022, after suffering a stroke two days before. He was 83.
Br. Mario was born in Evanston, Illinois, on August 5, 1938, the third of four children, to Raymond and Elizabeth (Henneberry) Ibison, and was given the name Thomas Raymond at his baptism.
After completing his elementary education at St. Ita Grade School in Chicago in 1954, he enrolled in St. George High School in Evanston, from which he was graduated in 1958. He was invested as a novice at Saint Meinrad on November 5, 1960, and he professed simple vows on November 12, 1961.
Br. Mario's monastic assignments had him working literally all over the hill. His service included stints in the plumbing department, the library, the sacristy, the tailor shop, and the shoe shop.
But two assignments in particular occupied 50 of Br. Mario's 60 years of monastic life. In 1970 he began working with Physical Facilities on the grounds and landscaping crew and in the monastery vineyard. Twenty-one years later, trading the gardener's hoe and spade for the painter's brush and buckets, he took on the assignment he would hold for the next 30 years and, indeed, until the very day of his death.
Although not one to boast or call attention to his accomplishments, Br. Mario could rightly claim there was scarcely a spot of land anywhere on the hill or a room inside any of its buildings that had not benefited from his hands-on care.
In the evening hours, Br. Mario often would put his energy into fierce games of chess with one of two confreres. Br. Mario seemed to be victorious more often than not, probably not realizing his confreres could detect whether he had won or lost that evening depending upon whether his face showed a scowl or a smile on his way to Compline. For further recreation, Br. Mario was an avid reader.
Always interested in how his confreres and co-workers were doing, Br. Mario could be full of questions – and comments. While formal meetings would likely not be on his list of favorite things to do, he was not hesitant about asking questions or pointing out things he considered obvious.
Br. Mario would likely not understand being called an "ambassador of Saint Meinrad," but in so many ways he was, even though he did not travel away from the hill often. Whether it be guests, students, oblates, co-workers, or even delivery drivers, it often seemed Br. Mario was the first monk those coming to the hill would encounter. He knew how to greet and how to make others feel welcome. And once met, Br. Mario would be remembered, and often asked about years later.
Br. Mario was preceded in death by his parents and sister Gloria. Surviving are two sisters, Donna Leonard of Arlington Heights, IL, and Jackie Kilkenny of Colorado Springs, CO; and many nieces and nephews.
At the time of his death, Br. Mario was 83 years old. A jubilarian of profession, he was in the 60th year of his monastic profession.
The funeral was celebrated on January 24, followed by burial in the Archabbey Cemetery.