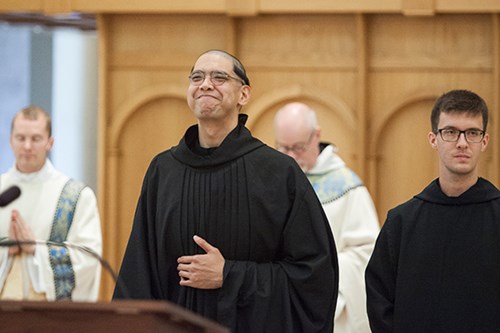 Where are you from? How did you first hear of Saint Meinrad? What did you do professionally before joining the monastery?
I was born in the Philippines, where I spent my childhood. In 2006 I moved to the United States. In 2009 I applied to be a seminarian for the Archdiocese of Indianapolis. After graduating from Marian University and Bishop Simon Bruté College Seminary in 2012, I was sent to Saint Meinrad for theological studies. I wanted to be a diocesan priest. Little did I know that I would become a monk.
What drew you to monastic life?
In my first two years of theology at Saint Meinrad, I found myself identifying more and more with the monks than with diocesan priests. In particular, I was drawn to the monastic liturgies in the Archabbey Church. Even though the seminary and monastery had separate prayer schedules, I found myself going to the Archabbey Church to attend Vigils and Lauds or Vespers whenever I could.
I was also drawn to the ministries that the monks do, such as teaching and forming future priests and giving retreats. So, if I had to summarize it, I would say that the prayer (liturgies) and work (ministries) at Saint Meinrad drew me to monastic life. At the end of my second year of theology, I applied to enter the monastery and have been happily living the monastic life since.
Since joining the monastery, in what ways have you grown in your relationship with yourself? With God?
When I first entered the monastery, I felt drawn to the structure and rhythms of monastic life. There's a time for everything – silence, talking, recreation, prayer, work and study. To this day, the life's structure continues to give me comfort, and yet I've learned to look beyond the externals. I've learned that monastic life is, first of all, about cultivating an interior disposition of listening and searching for God.
As a monk, I encounter Christ most powerfully in liturgical prayer: in the Word that's proclaimed, in the Eucharist that we share, in my confreres with whom I pray and in the guests who bring to us Christ's presence.
Likewise, the practice of lectio divina also trains me to slow down and converse with God when reading from Scripture or from spiritual books. This continued search for Christ has led me to encounter the God of surprises, who is present in both moments of joy and sorrow.
Why did you become a monk of Saint Meinrad and not a monk of another house? What about this place and this mission called you to spend your life in service to it?
I am convinced that God has brought me exactly to where I needed to be. I was born with two birth defects: spina bifida and clubfoot, which limit my mobility. And yet, despite my walking limitations, God has brought me one step at a time to southern Indiana, to discover the joy of monastic life at Saint Meinrad. Also, since I was a child, I've always wanted to be a teacher.
Last year, Archabbot Kurt sent me to the Pontifical Institute of Liturgy (Sant' Anselmo) in Rome to begin graduate studies. I am very grateful for this and pray that God may give me an opportunity in the future to teach in our seminary and follow the footsteps of the countless number of Saint Meinrad monks who have formed priests for service in the Church.
Why does the Rule of St. Benedict still matter? What does it have to offer to a secular, post-modern world?

The Rule of St. Benedict matters today more than ever. The very first word, "Listen," has perennial value. In our world today, spreading the Good News does not entail just preaching and expecting others to accept the message. Instead, it begins with listening to people's conditions and then recognizing God's presence in their lives, in both their joys and sorrows. Only then can we accompany others.
In an age of constant communication and information, there are so many things competing for our attention. The Rule's message is clear and simple: "Prefer nothing whatever to the love of Christ." If we truly stop and listen, we will realize that only the love of Christ can give us true peace, and the Rule's emphasis on discernment and moderation can help people live more balanced lives.
So, Benedictine spirituality is not just a gem for monks but also a treasure for everyone regardless of their state in life – whether as a lay person, priest, sister or monk. Our vibrant oblate community, I think, testifies to how Benedictine spirituality continues to remain relevant and helpful in leading people closer to Christ. 
Any other comments?

In the past 165 years, Saint Meinrad has served the Church in southern Indiana and all over the country, forming seminarians, staffing parishes and serving as an oasis for pilgrims searching for Christ. I can't be any prouder to belong to this community and to do God's work. Your support enables us to continue to share the light of faith and the joy of Christian life. Please know of my prayers for you for your generosity. Thank you!