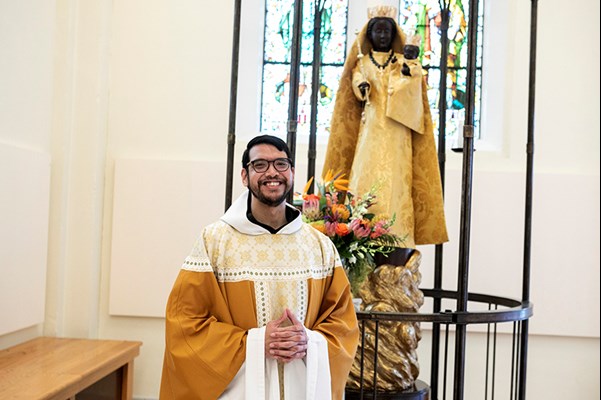 God Brought Me Exactly Where I Need to Be
"I'm convinced God brought me exactly where I need to be," explains Fr. Lorenzo Penalosa, OSB, a native of the Philippines and graduate student at the Pontifical Institute of Liturgy in Rome. "I've wanted to be a teacher since I was a child. I hope to follow the footsteps of other monks of Saint Meinrad and form priests for service in the Church."
Ordained a priest on August 30th, Fr. Lorenzo first came to Saint Meinrad as a seminarian for the Archdiocese of Indianapolis. Soon, he started attending monastic liturgies as often as possible.
"I found myself going to the Archabbey Church to attend Vigils and Lauds or Vespers whenever I could," explains Fr. Lorenzo. "I was also drawn to the ministries that the monks do, such as teaching and forming future priests and giving retreats. So, if I had to summarize it, I would say that the prayer (liturgies) and work (ministries) at Saint Meinrad drew me to monastic life."
After two years as a diocesan seminarian, he joined the monastery and has never looked back.
"Monasteries like Saint Meinrad and the Rule of St. Benedict, which our life is based on, matter today more than ever. Benedictine spirituality is not just a gem for monks, but also a treasure for everyone regardless of their state in life – whether as a lay person, priest, sister or monk.
"The Rule's message is clear and simple: 'Prefer nothing whatever to the love of Christ.' If we truly stop and listen, we will realize that only the love of Christ can give us true peace."
As he looks excitedly toward his future as a monk and priest, Fr. Lorenzo could not be happier that he is able to carry out his ministry at Saint Meinrad.
"In the past 166 years, Saint Meinrad has served the Church in southern Indiana and all over the country, forming seminarians, staffing parishes and serving as an oasis for pilgrims searching for Christ. I cannot be any prouder to belong to this community and to do God's work."
Your gift prepares Church leaders rooted in prayer and committed to serve!
In the past two years, only 7% of religious communities in the United States had two or more members profess perpetual vows. At Saint Meinrad, 7 young men professed final vows. To continue our growth and to continue forming future Benedictine leaders of the Church – like Fr. Lorenzo – we need your support.
Thank you for investing in Saint Meinrad, our students, and the Church's future.