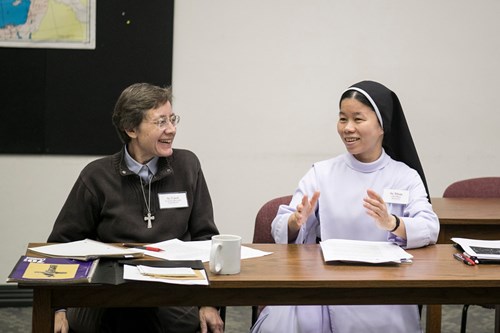 When she first entered the cloistered Carmelite Monastery of Mary Immaculate and St. Joseph in Louisville, KY, Sister Carol Curtis thought she would never leave. Unfortunately, twenty-five years later while serving the community as Prioress, she made the difficult decision to close the monastery.
"The age of the sisters, their health issues, and a lack of vocations made it necessary to close. I found myself in a time of transition. What did I want to do? Where should I go?"
After settling the affairs of the closure and moving into her new home at the Ursuline Monastery in Louisville, Sister Carol began classes at Saint Meinrad in hopes of finding her next work in service to the Church.
 "As soon as I started to dive deep into scripture for my studies at Saint Meinrad, it became clear to me that scripture is where my passion lay."
Finding comfort and direction through her studies at Saint Meinrad, Sister Carol is hopeful that God is leading her down a new path in her life as a religious sister.
"The role of laypersons is a ministerial one, whether a professed religious or not. It's important to recognize that we all are the Church. As more of us become aware and actively engaged in whatever work we find ourselves drawn, we will become a stronger Church."
At Saint Meinrad Seminary and School of Theology, we're filled with hope for the future of the Church because of the witness of Sister Carol Curtis and other students like her, who are willing to dedicate their lives in service to the Church and the world. Together with your support, we will continue to build a stronger Church with ministers known by their faith, hope, and integrity.