Exhibit of art by Br. Martin Erspamer, OSB
Monday December 2 - Wednesday January 15
Archabbey Library Gallery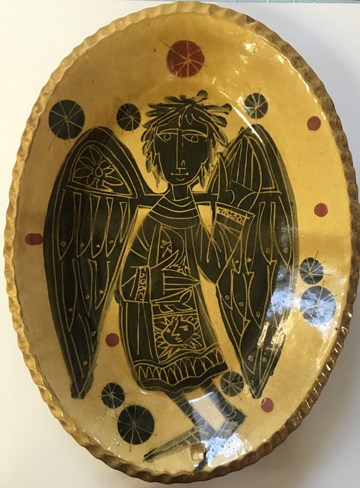 Saint Meinrad Archabbey Library Gallery, St. Meinrad, IN, is hosting an art exhibit called "New Works: Slipware and Drawings," by Br. Martin Erspamer, OSB. The show runs from December 2 through January 15.
This exhibit features functional ceramics, small scale mixed-media drawings, and carved tiles. This is a cash and carry show, with new work replacing pieces as they sell. Smaller pieces are ideal Christmas gifts.
Br. Martin is a Benedictine monk of Saint Meinrad Archabbey. He earned a master's degree in fine arts from Boston University in 1986 and began his career as a liturgical artist, working in painting, illustration, ceramics, stained glass, and worship space design.
His work has taken him throughout the United States and as far away as India. Among his recent works is a large tapestry of Christ seated in glory created for the newly renovated The Christ Cathedral in Garden Grove, CA.
His art celebrates the Benedictine ethos, "that in all things may God be glorified."
For library hours, call (812) 357-6401 or (800) 987-7311, or visit the Archabbey Library's website: www.saintmeinrad.edu/library/library-hours/.
The exhibit is free and open to the public. Those wishing to view the exhibit may want to arrive at least 30 minutes before closing time.
Photo: A bowl designed by Br. Martin Erspamer, OSB