Art exhibit by Roy Ruiz Clayton
Tuesday May 14 - Saturday June 29
Archabbey Library Gallery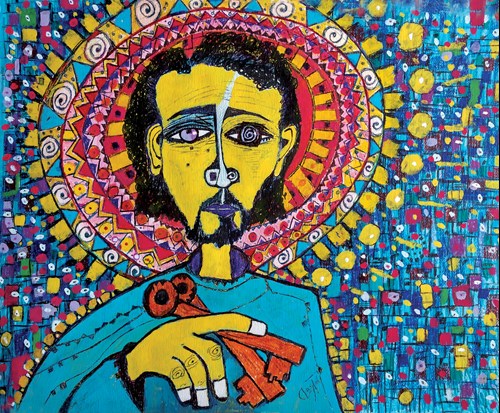 Saint Meinrad Archabbey Library Gallery, St. Meinrad, IN, is hosting an art exhibit called "The Glory of Saints," by Roy Ruiz Clayton of Louisville, KY. The show runs from May 14 through June 29.
Clayton is an intuitive, self-taught artist from San Diego, CA. His works are sometimes described as "outsider art." He captures his subjects in non-traditional ways using an explosion of colors, styles, and mediums.
Clayton's art is always about people. If someone piques his interest, he begins with the face. "I put pen, paintbrush, colored pencils, ink, watercolor, acrylic, grease or watercolor pencils on paper and just start."
Dreams, imaginings, family history, culture and songs all become part of the image. Objects and things help tell a person's story. Color, texture and pattern are of primary importance. By the time the painting is finished, the artist feels that he has gotten to know the person depicted.
Clayton is also a song writer and musician. He has created CD cover art, both for himself and others, including guitarist Marc Ford. His work also has been commissioned for posters by many San Diego music festivals.
Upon arriving in Louisville in 2016, he was commissioned to create a mural for the Louisville Bespoke Design Terminal. In 2018 he won first prize at the Owensboro Museum of Art's "A Celebration of Bluegrass Music." The work was purchased by the museum.
For library hours, call (812) 357-6401 or (800) 987-7311, or visit the Archabbey Library's website: www.saintmeinrad.edu/library/library-hours/.
The exhibit is free and open to the public. Those wishing to view the exhibit may want to arrive at least 30 minutes before closing time.
Photo: "St. Peter" by artist Roy Ruiz Clayton