Saint Meinrad names new Director of Graduate Theology Programs
Thursday, August 24, 2023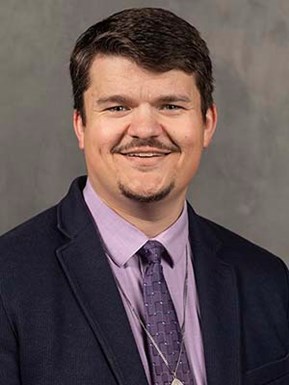 Chase J. Cloutier, of Newburgh, IN, has been named the director of Graduate Theology Programs for Saint Meinrad Seminary and School of Theology. Sr. Jeana Visel, OSB, who previously held the position, will continue to serve as dean of School of Theology Programs and adjunct assistant professor of spirituality. Cloutier began work on August 16.
In this position, Cloutier will coordinate the administration of all academic and formation programs for lay students and permanent deacons pursuing degree or certificate programs at Saint Meinrad. He will also collaborate with the Office of Continuing Formation in coordinating non-degree or continuing education programs related to lay ministry.
Cloutier is a doctoral candidate in systematic theology at the Catholic University of America, having attained an MPhil degree. He also has a Master of Theological Studies from Boston College School of Theology and Ministry, and a master's degree in philosophy from Franciscan University of Steubenville.
Most recently, Cloutier has been a teaching fellow in theology for the First Year Experience program at the Catholic University of America in Washington, DC. He was also a project manager in higher education event planning while working with ePosterBoards based out of Boston, MA. Prior to that, he worked as a theology teacher at Charlotte Catholic High School in the Diocese of Charlotte, NC, for two years.
Cloutier is also a professional vocalist who has supported liturgical music as a choral section leader and cantor at numerous parishes, including Mother Seton Parish in Germantown, MD. Cloutier resides in Newburgh, IN, with his wife and two children.