Br. Angelo Vitale dies on May 2
Monday, May 3, 2021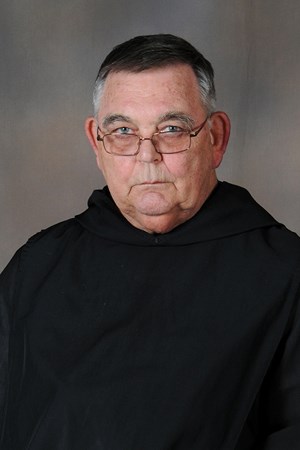 Br. Angelo Vitale, OSB, monk of Saint Meinrad Archabbey, died in the monastery infirmary on Sunday, May 2, 2021. He was 80.
Brother Angelo was born in Connellsville, PA, on February 26, 1941, to Anthony J. and Catherine E. (Suwila) Vitale, and he was given the name Pasquale William at his baptism.
He attended high school in Hope, IN, at Bruté Latin School in Indianapolis, and then at St. Mary's College in St. Mary, KY. In 1958, he entered St. Placid Hall at Saint Meinrad Archabbey, where he completed high school. During this time, he worked in the Abbey Carpenter Shop.
Invested as a novice on May 10, 1961, he professed his simple vows on May 13, 1962, and his perpetual vows on November 13, 1965.
Br. Angelo's first monastic assignment was in the bakery. He also rang the tower bells for Mass and Vespers for several years. He enjoyed long tenures as one of the monastic community's barbers and as a radio operator for the Saint Meinrad Volunteer Fire Department.
Br. Angelo will be remembered most for his 56 years as tailor and shoemaker. He supplied his confreres with habits, cucullas, albs and stoles, and performed these services for various religious communities throughout the country. He was a student of the Myers School of Fashion Making of New York City, specializing in pattern making.
Br. Angelo was a member of the National Registry for Orthopedic Shoe Technicians and was recognized for his craftsmanship in the art and skill of shoe modifications and the custom making of shoes as directed by the medical profession.
He was in the 58th year of his monastic profession.
The Office of the Dead will be prayed at 7 p.m. Central Time on Tuesday, May 4, in the Archabbey Church. The funeral liturgy will be celebrated at 10 a.m. Central on Wednesday, May 5, in the Archabbey Church. Burial will follow in the Archabbey Cemetery.
Since the church remains closed to the public because of the pandemic, services will be livestreamed at www.saintmeinrad.org/live.