48 earn master's degrees from Saint Meinrad
Monday, May 16, 2022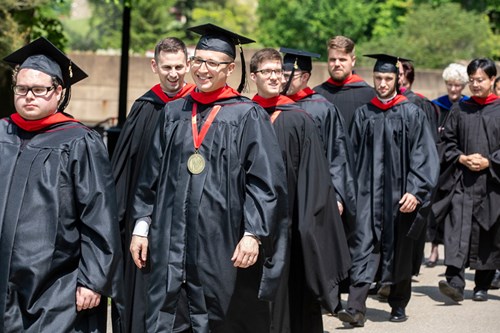 Graduates of Saint Meinrad Seminary and School of Theology, St. Meinrad, IN, were awarded master's degrees at the commencement ceremony on May 14.
Dr. Robert Alvis, academic dean and professor of Church history at Saint Meinrad, gave the address.
Receiving Master of Divinity degrees were:
Deacon Gregory Caldwell, Diocese of Burlington, VT;
Deacon Michael Clawson and Deacon Matthew Perronie, Archdiocese of Indianapolis, IN;
Deacon Benjamin Horn, Diocese of Lexington, KY;
Deacon Dustin Hungerford, Archdiocese of Louisville, KY;
Deacon Paul Lesupati and Deacon Zachary Samples, Diocese of Springfield, IL;
Deacon Ma Na Ling, Diocese of Owensboro, KY;
Deacon Sejin (Joseph) Nam, Diocese of Busan, South Korea;
Deacon Chukwunonso Ohanaka and Deacon Brent Thayer, Diocese of Nashville, TN;
Br. Aloysius Sarasin, OSB, St. Anselm Abbey;
Br. Nathaniel Szidik, OSB, and Br. Kolbe Wolniakowski, OSB, Saint Meinrad Archabbey;
Deacon Roarke Traynor, Diocese of Manchester, NH.
Receiving Master of Arts (Catholic Philosophical Studies) degrees were:
Lance Tony Antony Samy, Diocese of Palayamkottai, India ;
Andrew Cipolla, Diocese of Saginaw, MI;
Daniel Cooper and Robert Denne Jr., Diocese of Knoxville, TN;
Stephen McClain, Diocese of Tulsa, OK;
Felix Pesce, Diocese of Memphis, TN;
Reilly Swanson, Diocese of Crookston, MN.
Receiving Master of Arts (Theology) degrees were:
Kenneth Bennett and Deacon Brett Mills, Owensboro, KY;
Br. Joel Blaize, OSB, and Willy Kyagulanyi, St. Meinrad, IN;
Lisa Crutcher, Louisville, KY;
Daniel Eby, Jasper, IN;
John Fridley, New Baden, IL;
Dean Giulitto, Elizabethtown, KY;
Thomas Hosty and Sonia-Maria Raposo, Indianapolis, IN;
Kenneth Johanning, Westerville, OH;
Lauren Johnson, Hawesville, KY;
James Krupka, Maunaloa, HI;
Rosemary Merah and Anne Stofleth-Martin, Evansville, IN;
Vineeta Naskar, Wise, VA;
James Olson, Charleston, WV;
Christine Pacheco, Clarksville, TN;
Juan Carlos Ramirez Aranda, Columbus, IN;
Raymond Sheldon, Downs, IL;
Deacon Timothy Stout, Georgetown, KY;
Beth Van Der Burgt, Richmond, IN;
Wayne Weiler, Swansea, IL;
Andrew Williams, Daphne, AL;
Jason Winkle, Morgantown, IN;
Eli Yandow, Swanton, VT.