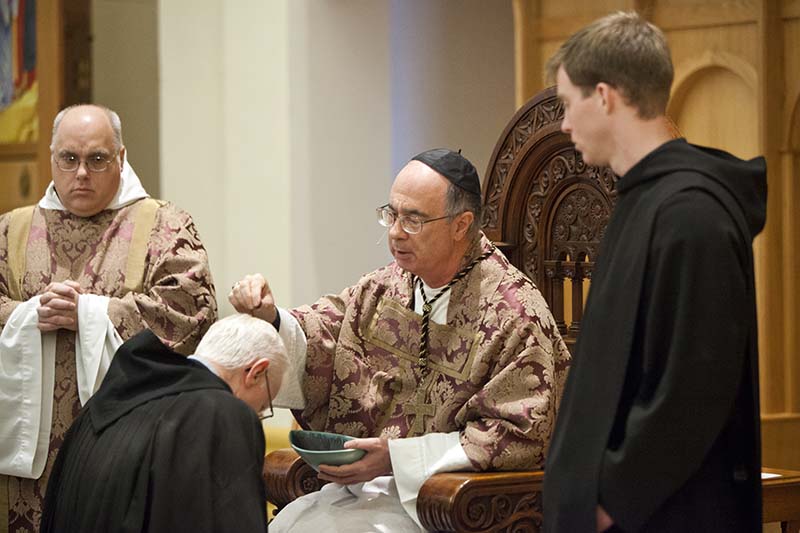 As we heard in our first reading: The just man, though he die early, shall be at rest. . . . . Having become perfect in a short while, he reached the fullness of a long career; for his soul was pleasing to the Lord, . . . .
These words of wisdom from the Book of Wisdom seem spot on today. Yes, with his characteristic humility, Father Justin would certainly disavow any comment about him having become perfect in a short while. But I'm suggesting that as we knew him, on that too-short road to perfection Justin came pretty damn close.
He became prior of our monastery when he was 32. That is indeed a young age to take on such a responsibility. But his 11-year tenure as prior was only one position Justin held in which he showed the wisdom and the experience we ordinarily associate with the attainment of old age.
Justin twice served as vice-rector of a seminary: 8 years here on the hill; more recently, 5 years at Bruté in Indianapolis. In both communities, he testified what it meant to remain in Christ. Never was there a doubt he lived as a branch firmly attached to Christ the vine. Never was there a doubt he was a branch bearing much fruit in season and out.
In between those two times of his being rector, our monastic community elected him abbot. Truth be told, on that last day of the year 2004, the day of his election, few of us—monks, co-workers, students—were surprised. By then, Justin was 53 and he had long since earned our love and our respect. For us monks Abbot Justin for 11½ years did indeed hold the place of Christ in our house.
With so many distinguished assignments "in such a short while," it would be interesting to speculate how Father Justin would have lived out his retirement. But neither God nor Justin's abbot wanted him to retire just yet. I can't speak for God, but I was so looking forward to what Justin would have to offer to the formation of our juniors and novices. As we know, sadly, he had only begun this new work when God set aside my plans for Justin and issued him his own. This final appointment—he knew it would be his last assignment—he accepted as obediently and graciously as he had all the others.
Father Justin announced to the monastic community he had pancreatic cancer on September 3. He did it his way: calmly, directly, and with equal measures of hope and acceptance. For a short while it appeared as though he might have some time—perhaps a half year or so—to be with us. But that was not to be.
Justin and I shared 47 years of life together in this house. As the years went by, one thing I noticed time and again was how many of our confreres, when filled out that little form, "when I die," asked that, when their time of death came, Justin would be the one to give the remembrance at their Office of the Dead or the homily at their funeral Mass.
Offering the remembrance or the funeral homily of a monk is not something that automatically falls to the prior or the abbot, and so those requests themselves are telling tributes. They meant that many monks—monks older, monks having lived in the monastery longer than he—entrusted him with "summing up their lives" as they were presented to the public one last time. And why they wanted him was no mystery. Having heard many of his remembrances and homilies, I was always moved by those qualities we've been talking about: his dry wit, his warm compassion, his keen understanding of people, and his kind regard of them.
For about a week now, thinking about all those remembrances and funeral homilies of confreres I heard him give, I've wondered what he might have preached to us today. In going through his files this past week, I think I've a pretty good idea.
In his files I came across a short essay—a remembrance, if you will—that Justin wrote. This was about his stepmother Nancy, on the occasion of her death in 1991. Some of us know that Justin's birthmother died when he was 3 and so it was his father and especially Nancy who raised him. In his remembrance of her, Justin wrote this:
When I was 3 years old, I was robbed of one mother, and was too young to know what I had lost. But God in his kindness gave me another chance, one that lasted 35 years. Watching this mom slowly fade during the last few years helped me to see that her death was right, and not a cheat. It was time to go. Death is not the last enemy to be kept away at any cost. My mother's final gift was to strengthen my faith in the Risen Jesus. The present life, with all its goodness and beauty, is only the beginning; and death, while sad, also ends sadness. 
I add just a few more words that Justin might have offered us today. They are found in the so-called "Book of Quotes" kept at Bishop Bruté College Seminary and regularly updated by the seminary community there. Bradley Gehlhausen, an alumnus of Bruté and now a first-year theologian with us, retrieved this quote and offered it to us. These words, from a homily of Father Justin sometime last year, he now offers to us:
God willing we will die as we have lived: men of prayer and men of Christ himself.
When it comes to words to remember him by, Father Justin couldn't have said it better himself.
 +Kurt Stasiak, OSB
9 October 2021
Wisdom 4, 7-13
1 Peter 1, 3-9                                                                                       
John 15, 5-8