Cruise Retreat for Priests
Finding time to make your annual retreat and take your vacation gets more difficult each year. Why not make a retreat that also feels like a vacation? 
Daily Mass, retreat conferences, group prayer and dining are all part of your retreat at sea. The ship's amenities, group interaction and ports of call add to the experience.
The Institute for Priests and Presbyterates has been conducting Cruise Retreats for Priests since 2007.
Discernment: The gift that keeps on giving
September 23-27, 2024
Miami, CocoCay, Bahamas, Grand Bahama Island & Nassau, Bahamas on board Royal Caribbean's Allure of the Seas.
Pricing Options per person
Balcony Stateroom
Deposit due at registration
Single Occupancy
$1525
$550
Double Occupancy
$1100 pp
$450 pp
Prices do not include airfare and airport to pier transfers.
Space is limited.
* Registration Deadline: June 11, 2024
** Full payment due July 1, 2024. $100.00 nonrefundable. 
Retreat Director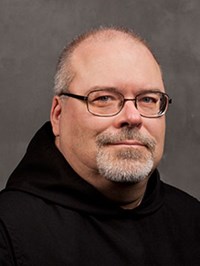 Father Julian Peters, OSB, a monk and priest of Saint Meinrad Archabbey, serves as Director of the Institute for Priests and Presbyterates, and adjunct instructor in Latin for Saint Meinrad Seminary. He is also one of the commuting chaplains for the Benedictine Sisters of the Monastery Immaculate Conception in Ferdinand, Indiana.
Born October 29, 1960, in Toledo, OH, Father Julian attended both Saint Meinrad College and School of Theology, receiving a bachelor's degree in Classics (Latin) in 1982 and a Master of Divinity in 1988. In 1994, he received a master's degree in non-profit administration from the University of Notre Dame. He entered the monastery on August 5, 1982, and professed his solemn vows on August 15, 1986. He was ordained priest on May 7, 1988.
Father Julian previously served as secretary to the archabbot, secretary to the council and chapter, master of ceremonies, assistant archivist and infirmary staff member for Saint Meinrad Archabbey. He has also served as director of alumni relations, assistant to the president-rector, associate dean of formation (college), and director of the permanent deacon formation program and director of liturgy in the Seminary. For two years, he served in the Archdiocese of Indianapolis as administrator of the Cathedral of SS. Peter & Paul and director of liturgy for the Archdiocese.
Registration Contact
Phone:1-800-357-8477
Email: smipp@saintmeinrad.edu