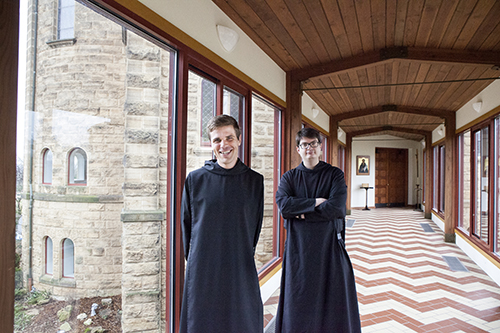 Read the full transcript of this episode
If you were intrigued by some of the stories behind the new names that monks choose when they take their vows, we have a treat for you - another episode on monastic names!
In our latest episode in our "Echoes from the Bell Tower" podcast, Fr. Noël Mueller, Br. Francis Wagner, Br. Stanley Wagner and Br. Kolbe Wolniakowski explain the origins behind their names. Br. Kolbe hosts the podcast, along with Br. Joel Blaize.
Below, you can see photos of some of our monks with an item that symbolizes their name or patron saint.
To read more about monastic names, see the latest issue of our newsletter On the Hill.
You can also listen to last week's episode on monastic names, or go back to our first season and listen to Episode 3.

As always, you can listen to this episode at the top of this page or go to iTunes or Stitcher and download "Echoes from the Bell Tower." Thanks for listening!