Peter Grodi
Degrees Pursuing at Saint Meinrad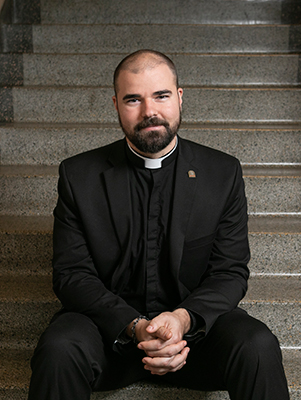 What attracted you to the priesthood?
First and foremost, I think I was attracted to the priesthood because it represented a life totally committed to serving God. As a child, I frequently watched my father giving talks at churches about his conversion story. His witness inspired me to want to be as dedicated to Jesus with my life as he is with his.
Who or what influenced you to begin study for the priesthood?
After college, I had not sufficiently answered the question of whether God was calling me to seminary. I continued to wrestle with the question for a year. I remember being in the chapel praying about my job, a girl I had begun to court, and basically all of my possible life choices when, all of a sudden, I realized in a moment of clarity that I could not move forward toward anything else in my life with any real peace until I answered the question of whether I was called to priesthood. That is when I realized that I needed to go to seminary.
What were you doing before you came to the seminary?
After I graduated from college, I was able to land a job as a worship director at a parish in Bowling Green, Ohio. That was my first real opportunity to work at a church and experience all the ins and outs of parish life. I now claim that church as my home parish.
Favorite saint and why?
If I had to pick one, I would pick St. Isaac Jogues. Long story short, he endured extreme torture at the hands of the Iroquois tribe in the Americas during his missionary work. He escaped with his life only to return and continue his work, which eventually led to being martyred. I have never been the most naturally courageous person, and I knew that he had what I needed. His example continues to humble me and push me forward today.
Favorite Scripture verse and why?
"Trust in the Lord with all your heart, and lean not on your own understanding; in all your ways acknowledge Him, and He will make your paths straight" (Proverbs 3:5-6). This verse has been both a challenge and a consolation to me for much of my life, but especially during my time in seminary. Through many doubts and fears, this verse was one of the things that kept me moving forward.
Hobbies?
I am what some would call a "prince of all traits, master of none" type of person. I enjoy doing many things but, unfortunately, I am not an expert at any of them. Among my hobbies are piano, guitar, accordion, ultimate Frisbee, disc golf, volleyball, video-gaming, board-gaming, reading, and so-on and so-forth.
What aspect of seminary life has been most rewarding?
Well, the most obvious and truest thing is my ever-developing relationship with Jesus Christ in the Eucharist. But setting that aside, the many friendships I have developed among the current and past seminarians have been some of the greatest joys of my life. They have been a major reason I have made it this far and have become who I am. They have formed me, challenged me, supported me, irritated me, made me laugh, and everything in between.
What aspect of seminary life has been most challenging?
I think pushing through the slow, drudging times in the semester is the hardest thing. About three-quarters of the way through the semester, most of us get very tired, unmotivated and swamped with papers. Continuing to keep up with all the public commitments, school assignments and other duties can be extremely trying.
Best advice you've heard in seminary?
You have to "own" yourself if you want to give yourself away in service to others. So, taking care of yourself physically, mentally, emotionally and spiritually is so important, not as a selfish thing, but as a way of respecting yourself, respecting your people and respecting God.
Other comments?
Thank you, Saint Meinrad, for all of the many, many gifts I have received in my time here.