John Wilebski III
Degrees Pursuing at Saint Meinrad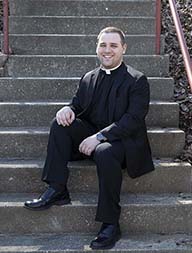 What attracted you to the priesthood?
I was attracted to the priesthood from a young age. Sometimes I might be embarrassed to admit it, but I was one of those kids who grew up playing Mass at home. Going to Mass was always a priority for my family when I was growing up, and so every weekend I saw the priest make Jesus present at the Mass. I have always wanted to help people, and I was able to see how the priest helped people and helped to make Christ present to people in the sacraments. Deep down, there has always been an attraction to the priesthood in the depths of my heart.
Who or what influenced you to begin study for the priesthood?
Growing up, my grandmother was extremely supportive of the idea of me becoming a priest and always helped me to engage my faith and to grow in my relationship with God. My pastor at my home parish was also influential in my discernment for the priesthood. He trained me as an altar server and gave me many opportunities to serve my parish community.
Finally, the priest at the Newman Center I attended before seminary helped me to discern that the time was right to begin seminary studies. He gave me the final push I needed to say yes to the Lord's call, and I finally said yes to seminary and the priesthood.
What were you doing before you came to the seminary?
Before entering seminary, I attended a local community college near my hometown and received an associate's degree. After graduating, I began pursuing a degree in elementary education from the University of North Dakota. While I was at UND, I felt a strong call to seminary, and so I left the college and applied to be a seminarian for the Diocese of Crookston.
I finished my bachelor's in philosophy degree and attended college seminary at St. Mary's University of Minnesota. Now I have been at Saint Meinrad for about three years. The decision to follow the Lord's call and enter seminary formation has been the best decision I have ever made in my life. It has come with much peace and joy as I journey toward the priesthood.
Favorite saint and why?
My favorite saint is St. Pio of Pietrelcina, also known as Padre Pio. I felt my devotion to him grow while I was in college. On his feast day, I listened to a radio special recounting his life and spirituality. The program mentioned three things that Padre Pio said were necessary for growth in holiness: receiving the Eucharist daily, a daily holy hour, and the regular celebration of confession. I felt a strong call to implement these three things in my life, and they helped me discern and find clarity in my call to the priesthood.
Favorite Scripture verse and why?
My favorite scripture verse is John 20:16-17. This story of Peter and Jesus summarizes well the experience and mission of a man studying for the priesthood. We come here to the seminary to cultivate and grow our relationship with Jesus. He is constantly calling us to grow in love of Him and his people. During formation, we learn how to become self-gift for others. Upon ordination, as a man leaves this Hill, he is sent to tend and feed Christ's sheep.
Hobbies?
I enjoy spending time with my family and friends. I like watching NHL and college hockey, and since I have been at Saint Meinrad, I have become a Nashville Predators fan. Recently, I have ventured into the world of virtual aviation through Microsoft Flight Simulator and enjoy flying to many destinations from the comfort of the seminary.
What aspect of seminary life has been most rewarding?
Community life at Saint Meinrad has been one of the most rewarding aspects of my time in seminary. The community at Saint Meinrad is like a family, and we are all journeying together toward the common mission of holiness and a personal relationship with Jesus Christ.
Community life does not only consist of my brother seminarians, but we are led by a formation staff, faculty, and co-workers who journey with us, day in and day out. They genuinely and authentically care for the well-being and growth of the seminarians.
What aspect of seminary life has been most challenging?
Journeying through seminary during the COVID-19 pandemic has been the biggest challenge that I have faced. The pandemic brought many twists and turns that I could have never expected. Yet, throughout the pandemic, the community banded together and made the best of a difficult situation. Living in the seminary during a pandemic has certainly prepared me for ministry in ways that I could have never expected when I first arrived on the Hill.
Best advice you've heard in seminary?
Since I have been in seminary, the best advice I have heard is to persevere even in the most challenging moments. Seminary life can present many challenges, but when a seminarian places his trust in the formation process and his relationship with Christ, God can take even the most trying situations and provide an opportunity to grow and encounter God in an even more profound way.
Other comments?
Saint Meinrad has indeed been a gift in my life, and I am grateful for all the beautiful relationships that I have formed in my time as a seminarian here. Saint Meinrad is a place where God dwells, and his love is made known. Seminarians are prepared here and are then sent out into the world to proclaim the Good News of Jesus Christ!