Steve Angrisano
Degrees Pursuing at Saint Meinrad
Master of Arts (Theology)
Specialization Certificate in Liturgy and Sacraments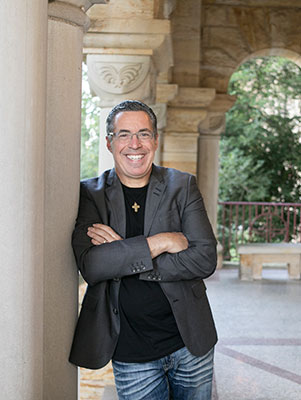 When did you begin your studies?
2016
What influenced you to begin studying for a master's degree in theology?
Mainly, the desire to deepen the well, so to speak. I think working in church ministry, ironically, can sometimes make it harder to grow deeper in faith, spiritually and intellectually, because you find yourself basically doing the same things every year.
This has been such a rich experience. I also chose Saint Meinrad specifically because I could study at a Benedictine monastery. As a liturgical musician, I find the prayer, liturgy and chant at Saint Meinrad brings so much richness to the experience.
What else are you doing besides seeking a master's degree (work, family, volunteer work)?
First and foremost, I'm a husband to my wife Jenni and father to three children: Julia, 27, Joshua, 23, and Joseph, 17 (not to mention a brand new grandfather!). I'm a music missionary, speaker and composer published with Oregon Catholic Press. At the heart, I use music, stories and anything else I can think of to help communities to open their hearts to Christ.
Favorite saint and why?
Our family genuinely takes on saints as family members! St. Benedict, of course, because of the way prayer and balance has been brought into my life as a friend of the Saint Meinrad community. St. Anthony of Padua has a special place in my heart. He was Italian (a great start!) and known for his homilies. People would come far and wide to hear him speak. I have called on him, as many do, to find things.
But the reason he's special to me is that I was really brought to my knees in the search of something in particular, and it was St. Anthony that I counted as a true companion in that experience. Finally, I think St. Therese of Lisieux would be offended if I didn't mention her. We attribute the adoption of our third child to her intercession and a sign of rose petals from heaven that, indeed, this is our son.
Favorite Scripture verse and why?
Romans 5:3-5. "Not only that, but we even boast of our afflictions, knowing that affliction produces endurance, and endurance, proven character, and proven character, hope, and hope does not disappoint, because the love of God has been poured out into our hearts through the holy Spirit that has been given to us."
This passage always reminds me that God blesses our efforts and our desire to do his will, and that hope is such a powerful and grace-filled virtue. God calls us to never lose hope.
Hobbies?
We are a baseball family! All the time. We are true fans willing to get our hearts broken over it. It's been a wonderful, healthy way for our family to be together.
Also, I play the ukulele. It's like therapy for the heart. You can't frown and play a ukulele. I like finding a sweet tune to play for my wife.
What aspect of your coursework has been most rewarding?
Honestly, with each semester I have been surprised how much I've enjoyed every class. I become pretty immersed in them! I have a much better grasp of the history and theology that serve as the underpinnings of everything we do in practical ministry (I will never take the word consubstantial lightly!). I've loved being challenged and stretched in this way.
What aspect of your coursework has been most challenging?
Making time for the studies in the midst of a fulltime working schedule. For sure, you have to really want to do it.
What plans, if any, do you have after you receive your degree?
First, to continue to do what I do. To speak and write music, hopefully enriched by this journey. I also hope to write some. In all that I have experienced in the last 25 years, I have a few stories, prayer and perhaps a little wisdom to share. I knew that taking myself on this journey was an important piece.
Other comments?
I know that when people consider an endeavor like this, all they see is how long it's going to take. Sr. Jeana (Visel, OSB) was great in helping me put one foot in front of the other and, honestly, before you know it, a few years have gone by and the end is in sight!
This experience has already changed me and formed me in such surprising ways. I know that whatever opportunities and doors this might open for me, the important work is already being done inside me. Thanks, Saint Meinrad, for being such a rich and meaningful part of my life journey.