Kirt David Prospère
Degrees Pursuing at Saint Meinrad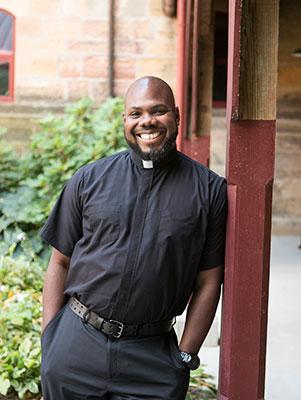 What attracted you to the priesthood?
I think what attracted me to the priesthood was a deep sense of the Catholic faith I received from my grandmother. She was a very devoted Catholic and made sure my siblings and I attended Mass every Sunday unless we were dying. Her devotion to the faith and our Blessed Mother showed me not only how to live out my faith, but also what commitment looked like.
The second thing that attracted me to the priesthood was seeing how my priest mentor and spiritual director Fr. Clement Paul lived out his faith. Unknown to me at the time, he was forming me in ways I am now coming to appreciate more fully. His leadership and service to the youth and young adults, and living out his priesthood in the diocese have been an inspiration for me, something I long to fulfill in my priestly ministry.
Who or what influenced you to begin study for the priesthood?
During the World Youth Day pilgrimage in Spain in 2011, I felt a deep call to the priesthood, and it was more profound than I had felt in previous years. After returning from Spain, I met with the bishop days after he was installed in my diocese. He encouraged me to start the process of formation, which I eagerly accepted.
Although the thought of the priesthood crossed my mind over the years, Archbishop Jason Gordon is the person who I would say influenced me to begin my studies for the priesthood. He brought me to a deeper understanding of priesthood through intentional discernment and prayer. It is in this time of what I call dating the Church that I found a peace I longed to have.
What were you doing before you came to the seminary?
Before coming to seminary, I spent 11 years working for an organization responsible for the defense and security of the Eastern Caribbean region, Barbados and six other Caribbean islands. Apart from my job, I was involved in parish and diocesan ministries.
In my home parish, I served as the youth coordinator and was on the parish pastoral council. I was also president of the altar server parish guild, a role I served for 21 years. My life was between my job and the Church. It may sound a bit boring, but I was content with it. It gave me the opportunity to do what I love.
Favorite saint and why?
My favorite saint is John Bosco. My first encounter with the saint was during a pilgrimage. I stayed with a priest who had a house of formation for young men, which was dedicated to St. John Bosco. When I returned home, I spoke to my parish priest about my experience, and he gave me two books on the saint. I was not an avid reader at the time, but I just could not put down those books. I read them from cover to cover and bought a third and did the same.
St. John Bosco's dedication to Our Lady was also an inspiration for me. In one of his dreams, young Bosco was in a field. In the field were some boys who turned into wild animals and then into lambs. Bosco was confused, and when he asked what it meant, he was told by Our Lady, "This is the field of your work. Be humble, steadfast, and strong!"
This was inspiring for me at the time because of my involvement with altar serving and youth ministry in the diocese. St. John Bosco reminds me of how to live in service of others, to be charitable and to help young people in their faith formation.
Favorite Scripture verse and why?
One of my favorite Scripture is Matthew 14:22-33, where Jesus calls Peter out of the boat to walk on the lake. After he realizes what is happening, Peter begins to sink, and Jesus holds him by the wrist. This verse stands out for me because of an illustration I once saw that now hangs in my room.
In the image, as Peter is sinking, Jesus grips his wrist and not his hand. This is powerful for me because it shows that sometimes when life is overwhelming, and I feel like I am sinking, I can trust that Jesus has his hand there to hold me up, and not let me go through my troubles alone.
It reminds me that I cannot do it all on my own, no matter how eager I am to get out of the boat. I still have to have faith in Jesus and rely on Him to help me, not only through the storms of life but when the seas are calm.
Hobbies?
I love cooking. I don't have a favorite thing to cook; I would try to cook almost anything. Before coming to seminary, I was studying part-time to be a chef. I have not given up on that dream, but I'll see how it works out after seminary.
Gardening is another passion of mine. Even if I came home from work at 2 a.m., I would go and check on my plants before going to bed. I love getting into the dirt and working on new projects. One of my big projects was aquaponics, which is the combination of aquaculture (raising fish) and hydroponics (growing plants in a soilless environment) that grows fish and plants together in a combined system. When inspiration happens to come my way, I enjoy writing poetry. It relaxes and puts me at ease.
What aspect of seminary life has been most rewarding?
What I find most rewarding is the amount of support and encouragement we seminarians receive here at Saint Meinrad. It is essential for me, because as an international student, I am separated from my family. I am a family-oriented person, and so cultivating relationships means a lot to me.
I would like to say thanks to some of my classmates who have been like brothers to me and to Fr. Denis, Fr. Tobias and the formation staff who have encouraged me here in the seminary. And those persons like Gervase and April Ebert, who have welcomed me into their home and been a source of support.
What aspect of seminary life has been most challenging?
In the beginning, what was most challenging was being away from home and coming to a place and culture I was not familiar with. My biggest challenge at one time was the racial divide, but over time and with some counselling, I was able to overcome it.
I looked at my challenges as significant obstacles and was ready to give up and return home, but I had a choice: call it quits without trying to find ways to work around them or maybe find alternatives. I did not give up. What I was here to achieve was more significant than the obstacle or the emotional reaction I brought to it. It was through prayer and the friendships I gained I was able to overcome the challenges I faced.
Best advice you've heard in seminary?
The best advice I received in seminary was from Dr. Ryan LaMothe. He said, "You have to know yourself, know your brokenness, to help others through their brokenness." This advice stands out for me, because it helps me to understand who I am as a person, to dig deep and confront my "demons," my past fears, so that I can be more understanding and empathetic when dealing with others. It also allows me to be more open about myself while forming meaningful relationships
Other comments?
My time here at Saint Meinrad has been filled with many blessings. First, my gratitude to the formation staff and professors who have brought me to this stage in my journey toward the priesthood. Second, my appreciation to the monks and co-workers on the Hill, who have dedicated their lives to this Holy Hill, but more specifically, those I have befriended. And finally, my classmates (Bialoruki and Grodi not exempted) and wider seminary community who have welcomed me and made me feel at home away from home.