Anita Navarra
Degrees Pursuing at Saint Meinrad
Master of Arts (Theology)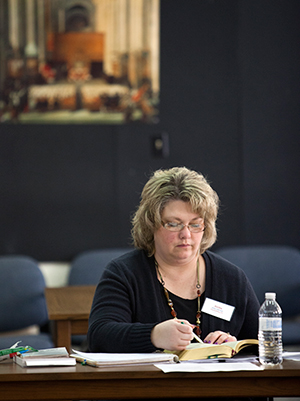 A graduate theology student at Saint Meinrad, Anita Navarra is also the director of religious education at St. Mary Parish in Greensburg, IN.  she appreciates that her classes at Saint Meinrad are giving her a deeper understanding of Catholic beliefs and traditions.
"The faculty at Saint Meinrad is top-notch.  They are very knowledgeable in their areas, and their passion for sharing their knowledge gives me a craving to want to learn more.  They are an example of how our intellectual growth strengthens our faith and relationship with God."
She also appreciates how Saint Meinrad is helping her to better serve the members of her parish.  "I have been inspired to be more confident in working with groups at the parish in answering questions or guiding their inquiries.
"I sense that I show more compassionate care in assisting persons dealing with hurt or loss.  The courses on morality, pastoral care, and faith have helped me to be more approachable and to reach out more readily.  I feel all of this is due to the example at Saint Meinrad to keep in mind Christ within each person."