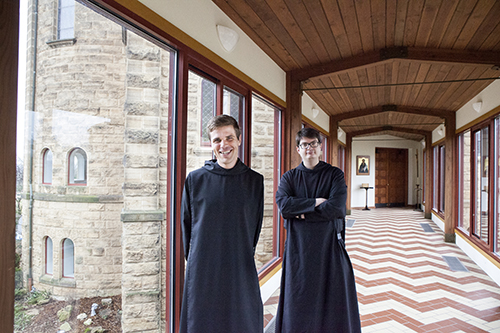 Read the full transcript of this episode
Welcome back to "Echoes from the Bell Tower," the third season of Saint Meinrad's podcast about life in a Benedictine monastery. We begin with an episode called "Keep Death Daily Before Your Eyes."
In this episode, hosts Br. Joel Blaize, OSB, and Br. Kolbe Wolniakowski, OSB, share some of the monastery's rituals around death and dying.
In today's society, death is not often faced in an honest and direct way. We rarely enjoy being reminded of our mortality.
But as Br. Kolbe explains in this episode, symbols of death are interwoven into monastic life. It begins when a new monk takes his solemn vows. He lies on the floor of the church while a funeral pall is draped over him. This reminds the monk that he is dying to his old life and rising into a new one.
As you'll hear in this podcast, throughout monastic life, a monk is reminded to focus on the goal of a heavenly hereafter - rather than the passing things of this earthly life.
Listen to the episode at the top of this page or go to iTunes, Stitcher or wherever you get your podcasts and download "Echoes from the Bell Tower." Thanks for listening!
Podcast Extra
In our podcast extra, we've included a short story from Archabbot Kurt Stasiak, OSB, on one of the strangest things that ever happened during the burial of a fellow monk.
We also added a link to some photos taken at the funeral and burial of Fr. Rupert Ostdick, OSB, who died last year.  View Photos