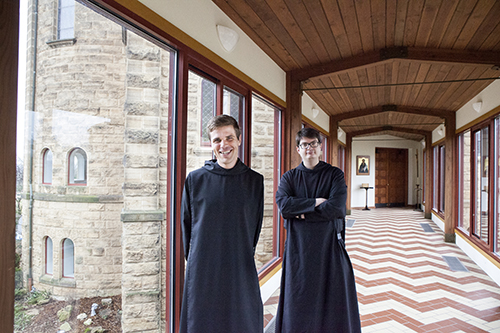 Read the full transcript of this episode
In our newest episode from the "Echoes from the Bell Tower" podcast, we look at some of the ways that "the Word" is important to life here at Saint Meinrad - both in the monastery and in the Seminary and School of Theology.
Hosts Br. Joel Blaize, OSB, and Br. Kolbe Wolniakowski, OSB, talk about everything from table reading to lectio divina, and from Gospel readings to the reading required of students.
If you're not familiar with lectio divina, it is a deeper, focused reading of a spiritual book. Often, the phrase is translated as "holy reading."
In the podcast, Archabbot Kurt Stasiak, OSB, explains it this way: "Lectio divinais trying to let the book catch us, instead of us catching the book."
Fr. Harry Hagan, OSB, who teaches a course on lectio divina, says, "I define it as reading typically the Word of God and expecting to hear God say something to you. So it's this idea that the Bible is not about people a long time ago, but is a Word that continues to live and to speak to us and to ask us questions."
Some of the audio for this podcast was recorded before Fr. Gavin Barnes, OSB, died in February 2017. He was one of Saint Meinrad's most frequent table readers, and he shared some amusing stories about the readings he had heard over his 70 years of monastic life.
Listen to the episode at the top of this page or go to iTunes, Stitcher or wherever you get your podcasts and download "Echoes from the Bell Tower." Thanks for listening!