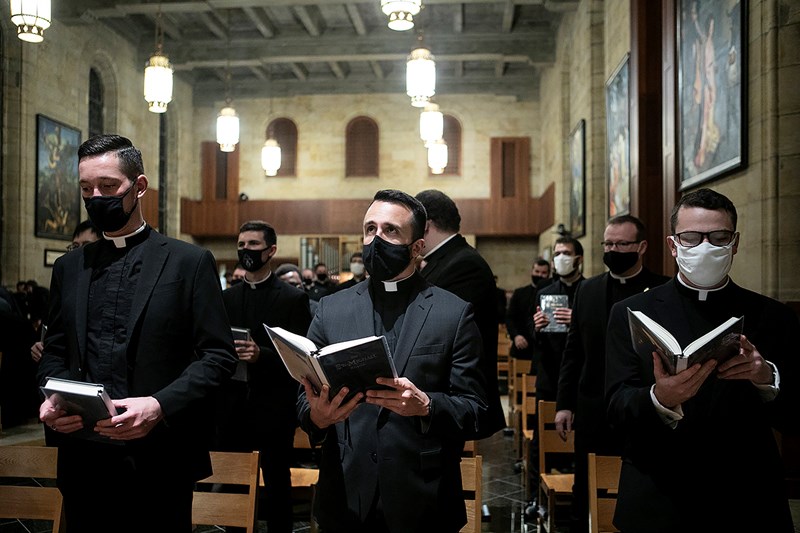 Finding words to sum up 2020 has not been easy. The year was unusual and presented many challenges. January started off as any year would. The seminarians returned to Saint Meinrad for January interterm classes. By March, the students were sent back to their home dioceses and religious communities to finish the school semester online.
The Archabbey Church was closed to the public and all events on campus were canceled or moved to an online format. The Hill became quiet.
We began to adapt. The monks started livestreaming Mass and Vespers. Br. Simon Herrmann, OSB, did Lectio Divina live on Twitter. The School leaders developed a plan for the seminarians to return to campus in the fall.
In August, Br. Simon Herrmann, OSB, and Callixte Senani were ordained deacons. A couple weeks later, Fr. Lorenzo Penalosa, OSB, was ordained a priest. Seminarians returned to the Hill for a modified fall semester.
There was a lot of anxiety around the uncertainties of this year, but there was still a lot of joy and hope for the future. As we move into 2021, we continue to lean on God and trust in His plan.
A special thanks to our student photographers, Dcn. Corey Bruns and Dcn. Omar Galvan, for helping document seminary life.
To view the whole gallery of Year in Pictures photos, visit: https://saint-meinrad.smugmug.com/Photography/Year-in-Pictures-2020/